Over at the

Translators and Interpreters (ProZ.com) Facebook Group, there are plans for a series of weekly posts introducing you to the people behind
ProZ.com
. Some of them you may have come across, while others have remained in the shadows… until now! In the weeks and months ahead, we'll get to know all of them in turn.
****************
It was quite by accident that
Drew MacFadyen
entered the language industry. But his relationship with sales goes back a long way. He started out in a publisher's representative firm, which advertised other companies, usually associations, and whose clients included
Reader's Digest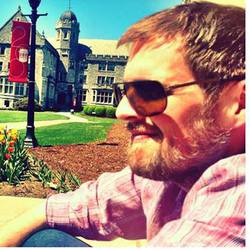 As a newbie, however, he wasn't given such big fish to fry – his first client was
The Chronicle
, the
monthly magazine of the American Translators Association
. A natural, Drew took to working the pho
nes, and began making sales right away.
Over the years, his remit expanded to include mountain biking and scuba diving magazines, but the relationship with the ATA continued, until one day that connection led Drew to meet
Henry Dotterer
… and the rest, as they say, is prozstory.
This was around 2006, and Drew's been busy ever since, starting out in advertising, but quickly adding conferences to his eclectic skillset. Tech-savvy, he got into SEO, branched into virtual events with the
ProZ TV broadcast
, and eventually became VP of Sales, building out and developing the training platform and drawing on the talents of seasoned professionals to write and deliver the materials.
His aim these days, in tune with
ProZ.com's mission
, is to provide accessible, industry-recognised skills training, to help language professionals achieve their business objectives and fulfil their potential.
In the US, you need a licence to cut hair, but not to translate. So Drew's vision is to create a body of training that sets standards and delivers certification – and beyond that to help people carve out a living as translators, from mainstream languages to more unusual combinations – facilitating communication and reducing barriers.
What gets him out of bed each morning is the feedback he receives from freelance translators about how virtual events have helped them reach their goals. He cites one particularly poignant example: for years on the office wall at ProZ.com, there was a picture sent in by a translator from the Philippines, with the legend: "This is the house that ProZ.com built". And yes, it was meant literally. The learning and opportunities the translator had acquired through the site over the years had changed his life.
But what does Drew get up to when he's not working on training? Born into a musical family, he was initially jealous of his gifted siblings, admitting that back then he was "unable to carry a tune in a bucket". Not to be outdone, he decided one day to step into the music store he passed every day on the way to grad school in Michigan, and buy himself a harmonica.
A long-term blues fan, he taught himself to play while driving with one hand, on the 90 minute journey. (
Editor's note: don't try this at home
).
And so was born the stellar career of Drew "Sweet Lips" MacFadyen – and you can check that on YouTube! ProZ.com is a treasure trove of hidden surprises…
Read previous versions of The people behind ProZ.com
Henry Dotterer, President