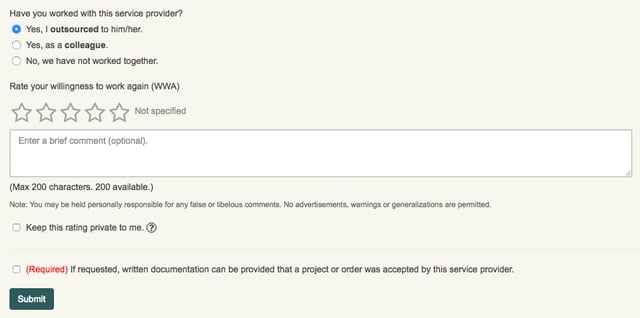 A new service provider feedback card was recently released at ProZ.com. Ratings have been provided for services provided to outsourcers in translation, interpreting, subtitling, post-editing, game and website localization, transcription, voice over and more.
Outsourcers, colleagues and others that have worked with ProZ.com freelance language professionals are invited to add feedback. These ratings help distinguish service providers and language businesses may use this information to select freelance language professionals for new work.
Links to the feedback card are available on ProZ.com profile pages using the "Rate service provider button". Service providers may also request feedback from those they have worked with and a direct link will be provided in the email.


Feedback involves completing a simple rating card. There is no requirement to log in or create a ProZ.com account.
Rate on a 5-star system your willingness to work again (WWA) with the service provider
Enter a brief comment
Check whether you would like to keep the rating private
If requested, written documentation may be required to prove that a project or order was accepted by the service provider.

Feedback may also be automated or imported from other platforms. Businesses that have feedback already are welcome to discuss feedback integration with ProZ.com.