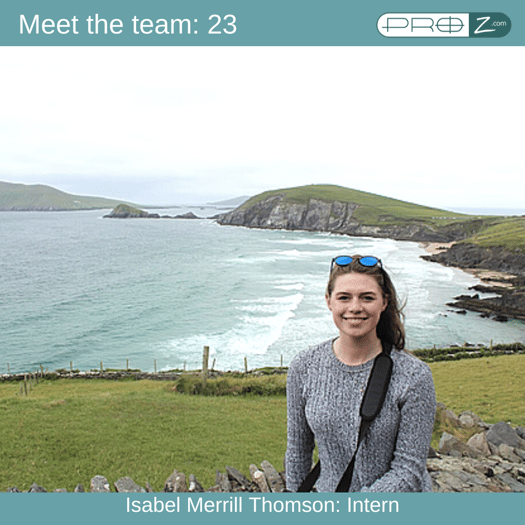 It's all about the networking. Isabel Merrill Thomson, who is just coming to the end of a two-month internship at
ProZ.com
, has known
Henry
for a long time, as they both
volunteer for the same hockey organisation
, as does
Mike Donlin
in fact. For all non-Canadians or Northern North Americans, that's "ice hockey" of course. What we call "hockey" they call "field hockey". Confused yet?
Anyway, we digress. During one of their many conversations while volunteering, the subject of language learning came up, as Isabel was a
linguistics major at school
. Up until then, Isabel had been totally unaware of where Henry worked, but that proved the perfect moment for him to talk about ProZ.com. It was Isabel's Dad who then encouraged her to apply for an internship – the latest in a series of interns in fact, even though there have been breaks between them too. She took off for a while to travel in Ireland, but then started on her return.
Isabel has been enthusiastically and energetically involved in a variety of tasks in her short stay, reaching out to all kinds of team members for information and shared knowledge, but mostly geared towards her role in getting the
native speaker conversation
initiative up and running. The idea has been around quite a while within ProZ, but it's certainly moved forward in leaps and bounds during Isabel's tenure, and her big goal is to have people using the service and actually making money out of it before she leaves, to return to her senior year.
The project involved a great deal of learning, research into potential partners, and coordination with developers and programmers, anticipating needs and coming up with solutions – not easy during the lockdown period, but she's taken it in her stride.
Quite a different way to spend the summer vacation after three straight years of nannying for a local family…
What's been particularly enjoyable for Isabel during this time has been working with
some great people
, and the
organisation's fundamental mission
to make opportunities for freelance translators and interpreters. That plus the involvement with the language industry as a whole. It's always been a subject of fascination to Isabel, dating back quite some time, to when she first learnt sign language at school to communicate with a deaf friend as a 6 year-old.
When asked in most groups what makes her stand out, Isabel is always happy to share that she knows two foreign languages (French and Spanish) – which is certainly unusual in the States. Maybe less of a distinguishing feature in our community of course.
And the future? While Isabel isn't planning to become a full-time translator, there are other options within the world of languages. Maybe a language teacher, or within a travel agency? Difficult to predict the years ahead in these turbulent times, but we wish Isabel well and thank her for her great contribution these last two months…