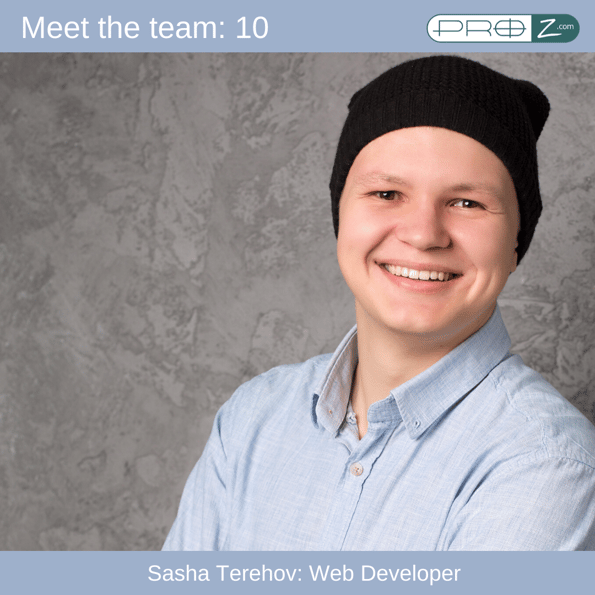 Over at the

Translators and Interpreters (ProZ.com) Facebook Group, there are plans for a series of weekly posts introducing you to the people behind
ProZ.com
. Some of them you may have come across, while others have remained in the shadows… until now! In the weeks and months ahead, we'll get to know all of them in turn. This is our 10th profile.


We often talk of doorways that lead to opportunities. In the case of Alexander (Sasha) Terehov it was literally true.

He began his working life installing doors in Dnipro, Ukraine, on behalf of his grandfather's company. Having studied English at school, he was ideally placed to interpret the wishes of foreign clients for his granddad and the other construction workers.

One such client, a Swiss entrepreneur based in Ukraine, was friendly with the founder of a translation company called InText, who also, as it happened, had building work for Sasha. After the initial contact, one thing led to another, and Sasha ended up as head of vendor management in the automation section at InText. One of his first duties involved checking out potential customers on the

ProZ.com

Blue Board, assessing their potential for collaboration with the translation company.

Yet despite the regular work, Sasha harboured the dream of turning freelance himself, as a software developer. He describes himself as a creative who can't draw, write or play music, so it's through development that this aspect of his character finds full expression. While still employed, he kept abreast of trending new technologies, and one eye out for opportunities, checking up once or twice a week on remote working websites.

One day, a position appeared from

ProZ.com

– the only name Sasha recognised in a long list of companies. So he applied, but in two minds: on the one hand it would nip his dream of a freelance career in the bud, but on the other, he was intrigued to find out more about a company that offered a paid development test. And he was of course accepted.


His work today focuses mostly on ProZ*Pay – the service whereby

ProZ.com

pays freelancers on behalf of agencies with temporary cashflow problems, then recoups the money later from the agency. Sasha's duties range from working on software development to sales and account management, and from onboarding freelancers and companies to payment processing. It's a role that enables him to craft, creating processes and interfaces that are smooth and easy to use – which increases his own sense of positivity and energy.


It also involved him spending several months in Syracuse at

ProZ.com

Head Office. Sasha is currently living and working from the South of Turkey, with a permit to stay on till the end of the year. But in fact he and his wife plan to return to Ukraine in the summer and then to move on to Portugal, with their young son, who is too young for school but will be home-schooled when the time is right.


The aim? Just to find a place that's comfortable, away from the rather restrictive mindset of back home. In fact, the place Sasha has loved most so far was New York City, where everyone's a stranger and no one makes the slightest assumption about you.


What makes Sasha different? "I'm a complete weirdo and can work tirelessly all the time", he says cheerfully. An indefatigable organiser, his aim is to create order out of chaos, wherever he comes across it. And there's no shortage of that at the moment…