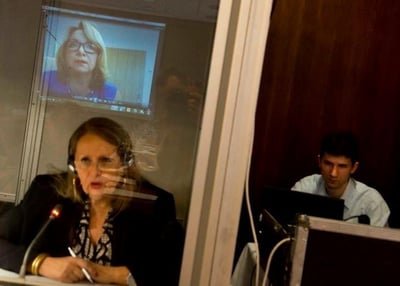 Eszter Lelik is an English to Hungarian interpreter and translator from Hungary, and was also the grand prize winner of a new Nissan Juke in the ProZ.com campaign The Open Road. Her win was announced on 10 January, 2017 in a live broadcast from ProZ.com headquarters in Syracuse.
Q. First, the most important question: Where's the first place you will go in your new car?
Eszter: Well, I wish I could go on a longer trip with the new car but this is a very busy season for me as interpreter and translator so I can think in terms of a short ride only. So I decided to go to Lake Balaton and visit some friends there.
Q. Now, from your website I see that you have over twenty years of experience as a translator and interpreter. What kind of changes have you noticed in your work and in the industry during the course of your career?
Eszter: In the course of the past 23 years as it is quite understandable many things have changed. When I started my career, a few years after the political transition here in Hungary, very few people could speak and did speak foreign languages. There was a high demand for interpreters and also for translators in my case, as I worked at that time at one of the Big 6 companies mainly due to the privatization processes where all the documents had to be translated into English. Now, more than 20 years later a new generation grew up, these young people, or rather their parents, realized the importance of foreign language skills so the majority of them speak English, but quite often a second foreign language as well. The multinational companies use English as their corporate language (even if it is e.g., a German company), thus the need for translation has greatly decreased. Nevertheless, considering my specific areas of expertise and the fact that I am doing mainly simultaneous interpreting, plus working not only in English but also in German, I am optimistic about my personal perspectives.
Q. You've interpreted for some impressive brands and organizations. What do you find most rewarding about your work as an interpreter?
Eszter: To become an interpreter has always been my dream. Now, more than two decades after the start of my career I am still certain that I have the best job in the world, at least the right one for me. I like independence, intellectual activity, constant learning, and travelling, always meeting new and interesting people. I have worked for/with famous politicians, celebrities, artists and I sometimes I am amused by realizing that most of them have already disappeared from the public life, from the stage, and I am still here.
Q. Are you optimistic about the future of the language industry?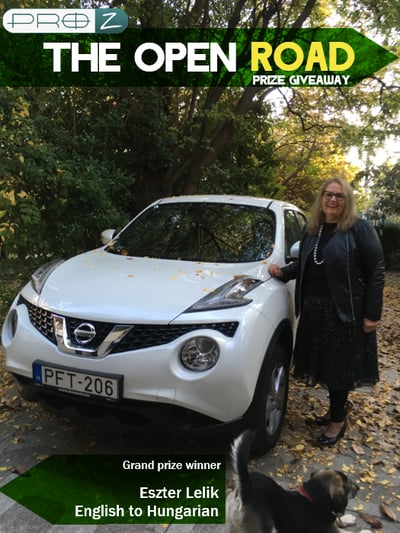 Eszter: In my previous answer I have mentioned already what I think of my own future, the future of my career. To be quite honest I am not optimistic at all concerning the future of the language industry in general. With all the translation memories, interpreting gadgets and the obsession with saving money on everything to the detriment of the quality, I think in about 10 years' time lots of translators and interpreters will be left without any assignment, or paid much less than today.
Q. The theme of this campaign was 'The Open Road'. What is next for you in your career?
Eszter: Open Road for me means new challenges, opportunities and many new things to explore. I think in our profession constant learning has to be the first priority. Thus, for me, deepening my knowledge in some specific areas, like medical and legal areas, is very important. Learning the use of CAT tools would be also necessary and also modernizing my website is there on my agenda.