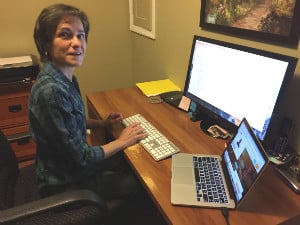 Frederique Griffith is a certified medical interpreter working in French to English and vice versa. She currently resides in Saint Louis, Missouri.
Q. Your profile indicates that you're a medical interpreter. Which do you find more rewarding – translating or interpreting?
Frederique: I have been interpreting for several years now and really enjoy it. People are very grateful for the service provided. Whether they are filling out a form, seeing a doctor or interviewing for immigration, it is always reassuring to foreigners to have someone next to them who understands them. It is a pleasure to help people communicate that way. Translation is different as I don't interact with people directly.
Q. Are you optimistic about the future of the language industry?
Frederique: I am optimistic because people are traveling, moving and doing business across borders more and more easily and will always need quality work done in translation. Machine translation is far from being the equal of human work. Quality is important and cannot be attained cutting corners and using machines.
Q. How has being a member of ProZ.com helped you meet your freelance objectives?
Frederique: I have learned quite a bit from ProZ.com. I have listened to several webinars, purchased a software at the group price, consulted the Blue Board to check on possible jobs and used the terminology glossary site quite a bit. Seeing and reading my colleagues's viewpoints in the discussion forums is also very helpful.
Q. What is next for you in your career?
Frederique: I hope to do a little more translating as I transition from interpreting, where I spend a lot of time driving to and from appointments. Over the Phone and Video Interpreting also allow me to cut back on travel time. I enjoy the challenge that represents the translation of a document. I plan on increasing my knowledge of CAT tools and taking advantage of the online library available to ProZ.com members.
Frederique was also the winner of an Apple Watch in the 2016 ProZ.com campaign The Open Road.