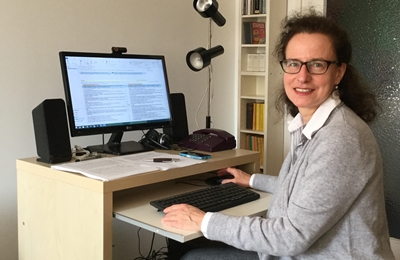 Gudrun Dauner is a freelance translator based in both Philadelphia and Munich. A native German speaker, she translates primarily from English and Italian into German and specializes in the field of art history.
Q. How did you initially start working as a translator?
Gudrun: I was always fascinated by foreign languages and cultures, and so parallel to my studies in art history in Germany I enrolled in language programs in other countries, mostly in Italy. After finishing my Ph.D. I worked on Italian Renaissance drawings at the State Graphic Arts Collection in Munich and then curated an exhibition on the same topic for the Rosenbach Museum & Library in Philadelphia. While attending the opening of this exhibition I learned that the United States Holocaust Memorial Museum's Center for Advanced Holocaust Studies in Washington, DC was looking for German translators to work on an encyclopedia. I worked for a few months on that project and found I loved it for two main reasons. First, I was glad to have a chance to put my language skills to productive use. Second, translating for publications is in essence what I did for many years as an art historian: looking for the best possible way to express a concept. So in a way, it was by chance that I started working as a translator back in 2005, but it "clicked" very quickly. In spring 2006, I registered at ProZ.com, which helped me build up a loyal client base in my field.
Q. From the details in your ProZ.com profile it looks like you have worked on some very interesting projects. Which one was your favorite?
Gudrun: It is hard to pick one favorite project, but in general I enjoy working on long-term projects, where I can learn a lot about a subject of interest to me in the course of translating the source text and sometimes even get the chance to write entries or essays. Over the past few years I have translated a lot on art glass, starting with "The Coburg Prize for Contemporary Glass 2014" for the Veste Coburg. This project led to the collaboration with a private collection in Hamburg, the Barbara Achilles Stiftung. The first volume of their collection catalogue was published in 2016 and we are now preparing the second volume. This is the first time I have translated the entire text for a two-volume publication from German into English. I guess that fact, in addition to my fascination with the subject, makes it probably the most challenging and rewarding project I have worked on so far.
Q. What is the most fulfilling aspect of your career as a language professional?
Gudrun: I find it especially fulfilling that I get to do on a daily basis that which I enjoy doing: working with languages. Since I spend most of the year in Philadelphia, translating keeps me connected with my native German, and also helps me feel close to home when I am away. Translating is work that forces you to evolve and grow every day. You have to stay up-to-date with the languages (English, German, and Italian in my case), the technology, and also with the scientific developments in the field(s) of expertise. I find the more I translate, the more this happens practically automatically.
I also appreciate the flexibility that comes with working as a freelance translator. You can plan your overall schedule and each individual day yourself, and you can work from wherever you are. It doesn't matter if I am in my office in Philadelphia, or at my other home in Munich. This gives me the feeling of freedom that I need to thrive.
Q. How has being a member of ProZ.com helped you meet your freelance objectives?
Gudrun: Becoming a translator was a career change for me, even if it was a smooth transition where one step led to another. From the beginning, ProZ.com was the most important resource for finding clients. When I started as a translator, I translated a broader range of topics, such as financial, legal and medical documents. Based in the US, I was often translating into German under tight deadlines, sending the documents at 3 am so that my clients in Europe would have the translation at the beginning of their business day. As I built my reputation, I was able to focus more and more on my field of expertise and get away from the overnight jobs. Now I translate almost exclusively for art galleries, museums, editors, university professors and tourism agencies. Many of the clients I work with on a regular basis found me on ProZ.com, ranging from a philosophy professor in Florida who writes on Hegel to an art gallery in Switzerland. In fact, several of my clients I have not met in person – ProZ.com is our meeting place. My membership continues to pay dividends by giving me access to interesting clients all over the world.
Q. What is next for you in your career?
Gudrun: I am very happy as things are right now. I have a five-year old son, and when he was little it was difficult to find a work-life balance. Now that he goes to kindergarten and becomes more and more independent, I am able to take on larger projects and still feel confident that I can deliver high quality in relatively short time frames. If anything, my plan for the future is to tackle more of these large projects.
Gudrun was also the winner of an Apple Watch in the 2016 ProZ.com campaign The Open Road.