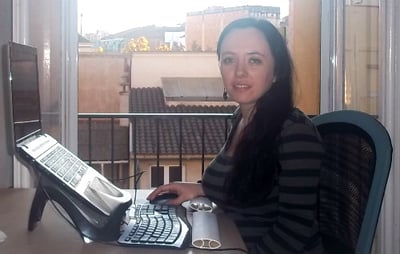 Jacqueline Lamb is a freelance translator working from Spanish, French, and Catalan into English. Jacqueline specializes in medical and pharmaceutical translations, particularly clinical trial documentation and medical journal articles. Originally from the UK, Jacqueline is now based in Barcelona.
Q. I understand that you frequently attend conferences and events for translators, both online and in-person. Is networking with other language professionals a priority for you? If so, how has this helped you in your business?
Jacqueline: Networking has helped me in several ways. First of all, as a freelancer who works from home, I think it is very important to get out and exchange ideas and experiences with others in a similar position. You can learn a lot from your peers, and it is also a good way to find out what you do well and identify areas for improvement.
Secondly, I have had clients referred to me through fellow translators I have met at events, and I have also been able to refer some of my clients to others for jobs that are outside my areas of specialisation or language combinations.
Finally, attending conferences with high-quality content is definitely a priority for me. Not only are such events an opportunity to learn from people who are at the top of their game, but they also give you something to aspire to and work towards. Such opportunities just aren't possible if you never leave your office.
Q. I see that, in addition to having a profile on ProZ.com, you also market your services on your own professional website, as well as on other online portals. How important is it for you to have a strong professional online presence?
Jacqueline: In a profession such as ours, where virtually everything takes place online, it can be difficult for clients to know who to trust with their documents when all they have is a person's name. I think that being a member of different associations and having a personalised email account and website help set you apart from the crowd, improve your credibility and show clients that you are committed to the profession. My online presence is very much a work in progress at the minute (as you'll have seen by my rather basic website!) but it's on my to-do list for next year!
Q. What is the most fulfilling aspect of your career as a language professional?
Jacqueline: It may sound like a cliché, but the most fulfilling aspect for me is that I am able do a job I enjoy every day. It is extremely satisfying to use the knowledge and skills I learned at university on a daily basis, and I thoroughly enjoy keeping up-to-date with my source languages, as well as the latest developments in the industry.
A more specific example of a fulfilling aspect of my job would be my work in translating articles for publication in medical journals, as well as revisions of articles written in English by non-native speakers. Despite having something important to contribute to their field, non-native authors often have their work rejected by journals due to an unacceptable level of English. It is always satisfying when an article I worked on is published, as I have played a part in making the information available to a much wider audience.
Q. How has being a member of ProZ.com helped you meet your freelance objectives?
Jacqueline: I initially registered with ProZ.com when I was working in-house and became a full member in 2014 when I started freelancing. Since becoming a full member, I have worked on many jobs for people who have contacted me through my ProZ profile and some of them have become regular clients. I've done some interesting training webinars and videos (and look forward to doing even more from the new Plus membership library) and have attended several of the online conferences, as well as a few Powwows with fellow translators in Barcelona. Being a member has definitely been a worthwhile investment as far as I'm concerned.
Q. What is next for you in your career?
Jacqueline: Personally I want to continue specialising further in the area of medical translation and would like to become involved in medical writing at some point down the road. The exciting thing about our profession is that it is constantly evolving and there are always other avenues to be explored, be it a new area of specialisation, branching out into related services such as subtitling or copywriting, or becoming involved in training and mentoring new translators. Your career is what you make it, and I am looking forward to finding out what the future holds.
Jacqueline was also the winner of an Apple Watch in the 2016 ProZ.com campaign The Open Road.