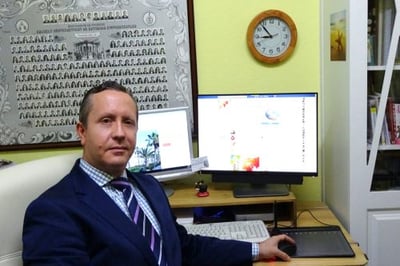 Jesús Tena Ruiz, after working as an interpreter, is now transitioning to a career in freelance translation. He works primarily in English to Spanish and specializes in finance, accounting, and banking.
Q. You mentioned that you used to work primarily as an interpreter, and now you are working more as a translator. How has that transition been?
Jesús: Well, I have a background in finance, accounting and banking. I used to work in a bank and had to interpret for some of the English-speaking customers. From time to time I've been working as a simultaneous interpreter. Now I'm working both as a translator and as an interpreter, about half and half, and in the near future I expect to work more as a translator.
Q. What is the most fulfilling aspect of your career as a language professional?
Jesús: Helping others is always rewarding, even when it's simply when they need an interpreter to work face to face with them while they complete paperwork. But when I really "feel good" is when I interpret at a doctor's office or a hospital appointment. There you can see the effect on your customer: they feel more relaxed to have someone there with them so that they can fully understand what is going on.

Translating documents is also fulfilling, but in a different way. It's a mental challenge to give the best of your language knowledge, to convey the full meaning and "flavor" of the source. You are always learning something new.
Q. How has being a member of ProZ.com helped you meet your freelance objectives?
Jesús: Using KudoZ is always helpful for me, and the questions often contain lively discussions. The ability to check a Blue Board record to evaluate a new client is also vital for me, as this allows me to read feedback that others have left about them. I also read the articles and forums on ProZ.com for helpful advice and comments from other translators.
Q. What is next for you in your career?
Jesús: My next step as an interpreter is to practice, practice, practice. My goal is to improve my skills as a simultaneous translator. My next step as a translator is to to learn how to use several CAT tools, diversify my skills, and be available for different outsourcers.
Jesús was also the winner of an Apple Watch in the 2016 ProZ.com campaign The Open Road.