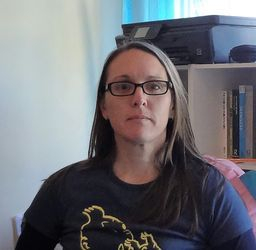 Michelle Komura is a part-time freelance translator in Japanese to English, a role that she balances along with studying and being a mother of three small children. She currently resides in Australia after having spent over a decade in Japan.
Q. How long have you been working as a translator, and what kind of changes have you noticed in your work during the course of your career?
Michelle: I have been translating for over fifteen years, with varying levels of productivity. While I can't comment on the industry as a whole, personally, I am delighted with the technological advances which have allowed me the mobility and flexibility to work anywhere, anytime. For working mothers such as myself, the ability to take my laptop or tablet with me when I meet clients or work away from my home office is fantastic, and definitely increases my productivity Sometimes, I just leave the kids with a babysitter and go off to translate in a café of my choice!
Q. Are you optimistic about the future of the translation industry?
Michelle: I am most certainly optimistic about the future of the industry, especially given the increasingly sophisticated technology available. As mentioned above, it continues to provide great opportunities for working on the go, and while machine translation (MT) could be presumed to spell doom for translators, I think it actually serves to show what a valuable resource talented language professionals are. The ubiquity of MT means that everyone has had the experience of having to muddle through a poor, inaccurate translation at some point. That experience should prompt one to insist upon quality translation.
Q. What is the most fulfilling aspect of your career as a language professional?
Michelle: Being a language professional is rewarding in many ways, both personally and professionally, however perhaps the most fulfilling aspect is the opportunity to add to the collective knowledge base through translation. That is to say, being involved in the transmission of ideas, creating understanding and exposure through application of my skills is both greatly satisfying and motivational.
Q. How has being a member of ProZ.com helped you meet your freelance objectives?
Michelle: For me, ProZ.com is a virtual workplace, a great place to confer with colleagues, as well as a source of work projects. Although I have only recently become a full member, I have already profited from the expertise of the ProZ.com team and the informative discussions in the forums. I look forward to continuing to learn from everyone here.
Q. What is next for you in your career?
Michelle: In the short term, I am looking to maintain a steady stream of projects in my current proficiencies, while working toward my graduation in October. My long term aim is to build on my linguistics background and current psychological science studies to transition to a biopsychology specialization.
Michelle was also the winner of an Apple Watch in the 2016 ProZ.com campaign The Open Road.