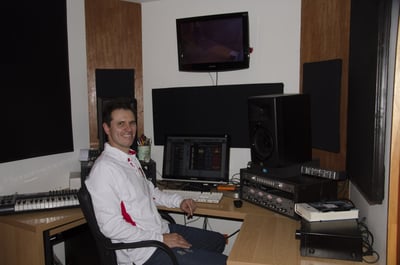 Paul Urwin is a Spanish to English translator specialized in finance, a trainer, conference speaker, podcaster, agency-runner, and voiceover talent. He is based in Colombia.
Q. How did you get started in translation?
Paul: As part of my engineering degree, I studied abroad for a year, at RWTH Aachen in Germany. While there, I carried out some projects at the Airport Research Center and was asked to translate some manuals from German to English. It was my first paid translation job but I never imagined that I would still be involved in translation over 20 years later!
Q. What are the most challenging aspects of what you do?
Paul: Managing a team and multi-tasking. Sometimes it seems that there are so many things going on at once and it can be difficult to prioritize. But I love every minute of it.
Q. Describe a favorite experience with a client.
Paul: Sometimes it's the small jobs that have the biggest impact. I remember writing a speech for a high-level government official and then recording it for her to listen to. She gave the speech at and an important congress in Italy and later told me that I had helped immensely with the writing, and that being able to listen to the recording had enabled her to perfect her delivery.
Q. What do you like best about where you are in your career now?
Paul: The freedom. The freedom to choose which projects to work on with clients that I feel are the right fit. The option I have to take my business in any number of new directions is very exciting.
Q. In what way have you been successful?
Paul: Perhaps one of my greatest achievements has been coming to a new country (Colombia), learning a new language (Spanish) and setting up a successful company.
Q. What has been the secret to your success?
Paul: Hard work and a positive attitude. There are other factors of course, but I think those two are essential.
Q. What advice would you give to someone just starting out?
Paul: Focus on finding clients. Most of what you do should be geared towards that.
Q. How has ProZ.com helped you meet your business objectives?
Paul: ProZ.com has been a key partner over the years, especially in terms of helping me to develop and share training programs specifically designed to help freelance translators.
Q. What are your predictions for the future of the industry?
Paul: The industry is changing and that change will bring lots of opportunity. I see a lot of potential for freelancers to combine translation with content creation and web services, for example.
Q. What is next for you in your career?
Paul: Well, I'm really looking forward to developing more training programs at ProZ.com and helping freelance translators to succeed!