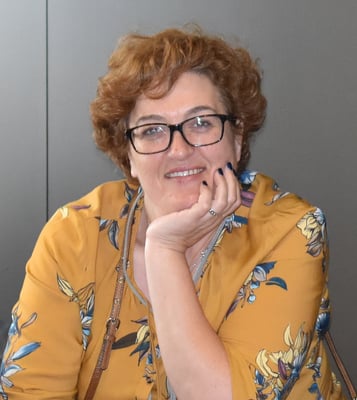 Paula Ribeiro is an English to Portuguese translator specializing in electro-mechanics, IT, power electronics and robotics. She has organized three successful translator conferences through ProZ.com, as well as organizing further events on her own, and is one of the founders of APTRAD, a professional association for translators and interpreters in Portugal. Paula is founder and CEO of Crossingwords. She has worked as a volunteer for Translators without Borders (TwB). She is a ProZ.com member and part of the Certified PRO Network (CPN).
Q. How did you get started in translation?
Paula: Back in 1997, I was made responsible for a translation project at the engineering company I worked at the time. Since then I knew this was the career I wanted to pursue! As I like to say that I didn't find out translation, but translation found me, as in a beautiful love story. :)
Q.
Describe one of your favorite experiences with a client:
Paula: Having been taken to a construction site of a huge dam to "meet" the equipment and the operating process I was translating at the time.
Q.
What are the most challenging aspects of what you do

?

Paula: I deal mostly with direct clients from my main field of expertise who know nothing about the translation process and only know that they need ready-to-print manuals or other documents translated into another language. The most challenging aspect is getting to be considered as their partner and not just another supplier in their long list of suppliers. Earning their trust up to such level takes time and great effort but it is rewarding.
Q.
What do you like best about where you are in your career now

?

Paula: The people I meet everyday. The opportunity I have to study and learn about new subjects everyday.
Q.
In what ways do you feel you have been successful

?

Paula: I was to found a Professional Translators and Interpreters Association (APTRAD) along with other colleagues.
Q.
What has been the secret to your success

?

Paula: A lot of determination and strength of will, always believing that I was able to reach and exceed my goals.
Q.
How has ProZ.com helped you meet your business objectives

?

Paula: ProZ.com helped me build my first list of clients. Helped me to be best found and to be able to organize some international and national events where I met lots of colleagues who I today consider friends.
Q.
What are your predictions for the future of the industry

?

Paula: I believe we are and will always be fundamental for the world to communicate. Our future is bright and we should all be very proud of what we are and of what we do.
Q.
What is next for you in your career

?

Paula: Next in my career will be the establishment of the 'Translators and Interpreters Association', recognized and governed by public law, independently and autonomously, thus ensuring the social role, dignity and prestige of our profession and of our professionals.