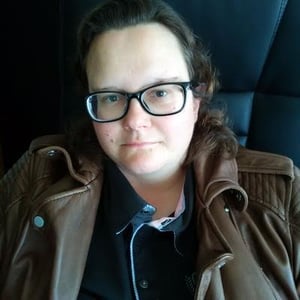 Stéphanie Boufferet is a freelance translator working in Spanish to French, specializing in tourism. She is based in Spain.
Q. I see that you are a member of Asetrad. In your opinion, how important is it for translators to join professional associations? Has being a member of Asetrad benefited your career in any way?
Stéphanie: I think that is very important for a translator to join a professional association. As freelancers, we are working alone at home. An association is very helpful to get in touch with your colleagues if you don't want to be isolated. Asetrad gave me the opportunity to meet other translators, to exchange ideas, know-how, resources and legal queries through the forum and to access high quality publications like La Linterna del Traductor. As a member of Asetrad, I must scrupulously respect the association's Code of Conduct, which asks us for instance to respect confidential information, to refuse "assignments that we are not qualified to undertake or for which we cannot ensure optimum quality" and to only accept "remuneration that enables them to practise their profession efficiently and with dignity". For our clients, it is a real pledge of quality.
Q. As a freelancer, how do you maintain a healthy work-life balance?
Stéphanie: My two Yorkshire terriers are helping me to maintain a healthy work-life balance. I need to take them for a walk several times a day! More seriously, scheduling is very important to avoid stressing about deadlines. I always aim to prioritise and remain disciplined. With your translations, never put off until tomorrow what you can do today. As a result, you will be available to work under pressure for urgent assignments that the client needs as soon as possible. However, on the other hand, we must free up time to develop new skills, such as learning how to use a CAT or an OCR tool better. It's also important to specialise in one field to improve our productivity, which is key. Finally, I think that the Roman phrase Mens sana in corpore sano is still relevant for a freelancer. In my day-to-day routine, Zumba classes or one hour of swimming are not-to-be-missed engagements. I sadly saw how some excellent translators and interpreters suffered from burn-outs and heart attacks last year.
Q. What is the most fulfilling aspect of your career as a language professional?
Stéphanie: I love my job. I do really enjoy what I do and I think that's a real privilege nowadays. In fact, I always dreamed of a career related to foreign languages. I was raised in a multicultural family with American and German cousins, with strong links with Spain. My grandfather passed on to me his passion for foreign languages. He learnt Spanish by talking to Republican refugees of the Spanish Civil War and with the help of a newspaper subscription. He spoke several languages and came to his mind to learn Italian at the age of 78 by making some crosswords during his recovery from a surgical intervention. My clients' satisfaction and the feeling that the translations I'm doing are useful, such as a medical report or a cover letter for a job interview, are also important and rewarding aspects. Translating gives me the opportunity to learn something new each day, to stay in touch with current ideas, topics and trends and to improve my language skills.
Q. How has being a member of ProZ.com helped you meet your freelance objectives?
Stéphanie: From the beginning, ProZ.com membership has been crucial as I obtained all my principal clients through the site. Being a member of ProZ.com also gave me a substantial discount on my Trados versions. The Blue Board database is very important as well to avoid dealing with non-professional translators or agencies, and forums, webinars and conferences are very useful. Furthermore, I previously mentioned the importance of Asetrad membership, and similarly, ProZ.com is a very valuable tool to stay in touch with other translators. Through ProZ.com, I met professional translators such as Marta Pino, a sworn and literary translator, and Barbara Beatrice Lavitola, the charismatic entrepreneur and CEO of BBLTranslation. For me, these were two very rewarding learning experiences.
Q. What is next for you in your career?
Stéphanie: It's difficult to predict the future. I would like to keep enjoying what I'm doing and keep trying to exceed my clients' expectations by delivering first-class translations.

As we are driving on an open road, I would like to chart my own course. To achieve this, I would like to take a Masters in audiovisual and multimedia translation, with dubbing, subtitling, subtitling for the deaf, audio description, multimedia and video game translations. Video is not going to "kill" written text, but it will have a growing place in our society. Translators must be ready and trained for that.
Stéphanie was also the winner of an Apple Watch in the 2016 ProZ.com campaign The Open Road.