What is Transcreation?
Watch this short video to find out...
What is Transcreation?
Transcreation is really a combination of professional translation and professional copywriting. As Nina points out, the "professional" component is important in both cases.

For translators, there are potentially advantages of adding transcreation to their portfolio of services. Transcreation tends to allow for (and require) more direct contact with the client, and can create a real sense of value for the transcreator in terms of what they are adding to the project. In addition, transcreation tends to allow for the use of more creativity (as it's name suggests!) and is much less about a per-word price and much more about helping clients by creating innovative texts that encourage customers to take action.
Here is the full transcript of the above video:
Paul Urwin:
Hey everyone Today I'm here with Nina Sattler-Hovdar. Nina. How you doing?

Nina Sattler-Hovdar:
Hi, Paul. Good.
Paul Urwin
Excellent. Excellent. Well, Nina, today we're going to be talking a little bit about transcreation. But first of all, I'd like to, I'd like for you to share just a little bit about your background in the languages industry. If you could tell us a little bit about that, please.

Nina Sattler-Hovdar:
Yes, sure. Absolutely. So the short version is I grew up bilingually with Norwegian and German. And I'm a professionally trained interpreter. And have also a background in marketing, because I've worked in marketing research for a while. So outside the languages industry. So at one point, I then decided to combine that experience from the marketing world and from the translation world. Well, that was 1998, actually, so a while ago. And I realized that there was there was a huge demand, even back then, and over time I realized that very few clients understood the complexity of this kind of work, and and even colleagues, hardly anyone understood the complexity of the work. So that's why I started out. My first presentation on transcreation was in 2006. A while ago.

Paul Urwin:
Impressive. So what is transcreation, Nina?

Nina Sattler-Hovdar:
The short version, again, is that I define transcreation as a combination of professional translation and professional copywriting. Okay, yeah. So you need as a transcreator, basically your skill, you're trained in both translation and in copywriting and can change hats as needed and as the client needs dictate. So that obviously is a great advantage to the client, and have great interest therefore, in the market.

Paul Urwin:
Yeah, yeah. So so a more a more specific, a more appropriate solution for many clients, I'm guessing.

Nina Sattler-Hovdar:
Yes, indeed. Because clients, they just want it in a different language. They don't care about, you know, the complexity, or whether that's a translation or, or rewriting or whatever. And that's completely understandable. We are the experts here. Consultants the for the client.

Paul Urwin:
Okay, excellent. Why might transcreation be something that could be of interest to translators?

Nina Sattler-Hovdar:
Well, first of all, there's great demand for for translators, or translators specializing in corporate communication, and in in advertising, marketing, public relations, because that is an area that is not taught a lot in universities. Yeah. And secondly, with machine translation, and artificial intelligence becoming, you know, making great strides and taking away, or actually doing quite well, by now in delivering good or usable content, we need to find a way to show that human translation or the level of the work produced by human translators is different, better, offers the client an added value that they never will get from this machine. And so yeah, so it's of interest to clients, it's of interest to translators, and everybody will, it's a win-win.

Paul Urwin:
Fantastic, fantastic. And what do you what do you most enjoy about about transcreation, Nina?

Nina Sattler-Hovdar:
The challenge of, you know, of understanding what the client really needs of being able to guide the client, but also putting what the client says to work. Yeah. So discussing with the client and being a valued partner to my client, really, because translators traditionally, they you know, they work in a small dark room somewhere with their computer. And now a transcreator is someone who is actually communicating with a client and the client asks them what what how could we approach this how can we do this, and so feeling like a full partner to your client that is very satisfying. In my view, that is what I enjoy most.

Paul Urwin:
Fantastic and Is it is it a an area that that pays well, in your experience?

Nina Sattler-Hovdar:
Um, it pays well in my case. Yes. It's definitely a way to make a living in, once you have been able to establish a niche for yourself, yeah. Being, you know, being able to, to, to find out where your strengths are, and then use that or those strengths. And once you're strong in an area, you know, the sky's the limit. Yeah.
Paul Urwin:
Brilliant.

Nina Sattler-Hovdar:
Maybe a little.

Paul Urwin:
Okay. Excellent. Excellent. Well, thank you. Thank you for that. Thank you for that introduction. Thank you for those explanations, Nina, At ProZ.com, we're delighted that you've agreed to work with us and agreed to share your course, with our audience that's Transcreation Essentials. So tell us a little bit about that, please.

Nina Sattler-Hovdar:
About the course.

Paul Urwin:
Yes, please.

Nina Sattler-Hovdar:
Yes.

Nina Sattler-Hovdar:
So well, it's um, I think I've packed sort of everything that I've learned in transcreation over those 20 plus years into into five hours. Those are really just like the the name the title of the of the courses, it says essentials and is all the key essentials. Basically, every aspect that I have come to understand, that is important in working as a transcreator. So from, you know, from legal aspects, to definitions to working with clients, how do I deliver my work? How do I approach this? What techniques can I use? I think it covers basically everything.

Paul Urwin:
Yep. Yep. Well, I know you've worked really, really hard on the course. And yeah, packed, as you said, packed absolutely everything in so yeah, brilliant.

Nina Sattler-Hovdar:
Still, not overwhelming, I would say I think. And then there's always examples in between. And there's also assignments, some exercises that I recommend, and I'm also going, I've prepared assignments that I will...maybe not grade but but give feedback to...group coaching sessions. So I'm really looking forward to this ,yes.

Paul Urwin:
Wonderful, wonderful. So wait, so are we. Well, thank you very much. Thank you very much for talking to me today. And yeah, I think it really is a wonderful, wonderful course. If you'd like to find out more, it's Transcreation Essentials and you can find it at training.proz.com. That's training.proz.com Nina, thank you very much.

Nina Sattler-Hovdar:
Thank you.

Paul Urwin:
Okay, take care. Bye bye.
5 Myths About Transcreation
To discover 5 commonly-believed myths about transcreation, watch the short video below:
5 Myths
Unfortunately, there are several myths that surround transcreation. These myths can sometimes prevent translators from exploring transcreation to the full.
These include:
1. Transcreation is just a fancy word for translation.
2. Transcreation is not a service in its own right.
3. You can't really assess it's quality.
4. Transcreation is just for advertising.
5. Transcreation is a specialization.
---
A Podcast About Transcreation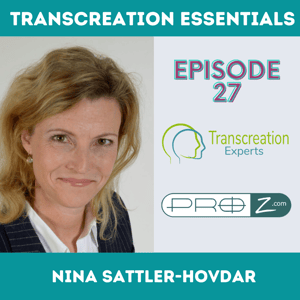 In this podcast episode, Nina Sattler-Hovdar shares some of here vast experience in the field of translation.
She talks about what transcreation really is (and what it isn't), why transcreation might be a good area for translators to find out more about, and her Transcreation Essentials course.
Click on the link below to listen to the audio (this podcast episode is also available on iTunes, Spotify and other major podcast platforms).
https://anchor.fm/proz/episodes/27--Transcreation-Essentials-featuring-Nina-Sattler-Hovdar-e10qlv5
Transcreation Essentials: How to Get Started and Prosper
Click below to find out more about Nina Sattler-Hovdar's excellent transcreation course. She really has packed in lots and lots of knowledge from her 20+ year career in transcreation, and covers all the main topics so that you can get started and make transcreation work for you!
voiceover for translators and interpreters
Transcreation Jobs at ProZ.com
Take a look at the transcreation jobs currently available posted at ProZ.com

Hire Transcreators at ProZ.com
ProZ.com is the world's largest community of professional translators and also home to many great transcreators (or transcreation professionals) from around the globe. If you are looking to hire a transcrator, click below to post a job.
Learn How to Establish Yourself as a Transcreator with ProZ.com's Transcreation Essentials Course.
The ProZ.com course "Transcreation Essentials" will help you get started and prosper in transcreation. The course covers everything from transcreative techniques, how to adequately price your services and negotiate your worth and how to identify ways to combine transcreation with other language services.