ProZ.com regularly hosts translation contests for the entertainment of site users. As a contestant, this is an interesting opportunity to expand your experience. Source texts aim to be a bit of a challenge, perhaps even pushing you out of your comfort zone.
If you are an avid follower of these translation contests, you will be happy to know that Bon Voyage: "Stories about travel" has reached the stage at which you can select the finalists.
By rating the different entries according to their "quality of writing" and "accuracy of translation", the ProZ.com community decides which entries should move to the next round and have a chance to become the winner of that language pair.
What do you think of these translations?
Which ones would you like to see on the final round?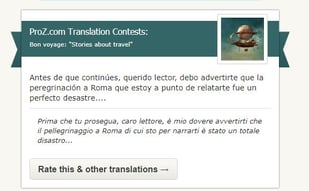 Thank you for your help!