Pools are specialized groups of screened experts. Each pool gathers different types of professionals depending on the service they offer or the area of the industry they work in.
If you are a ProZ.com member, you may apply to more than one pool, thus increasing your online presence.
To apply to a pool, go to Pools™ main page and select the pool you would like to apply to. Once there, click on the button that reads Apply to join pool. This will open an application form that you will need to complete in order to be screened by site staff.

Tip: submit a complete application to increase your chances of being accepted.
New pools are being released all the time, so if you don't think you would fit in one the current pools, just wait until new ones are released or suggest one.
You will find different fields depending on the pool you choose. For example, if you apply to the copywriter pool, you will be asked to provide a sample of your work; if you apply to the pharmaceutical translator pool, you will be requested to state which translation stage you specify in.
All pools will require the same essential elements for your profile.
1. Profile picture
Upload a clear picture of yourself. The best pictures often display a professional look and inspire trust. Give your picture more impact by adding something related to the pool you are creating a profile in. If you apply to the interpreting pool, show yourself in an interpreting booth with a headset on, for example.
Also remember that you can upload different profile pictures for each pool. So you should really consider targeting your profile picture in each case.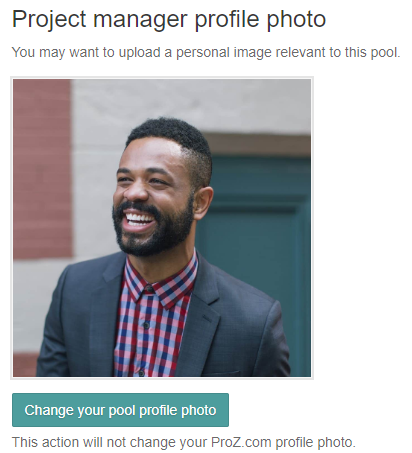 To upload a profile picture, click on the button that reads Change you pool profile photo. You will be requested to upload a picture from your PC.
2. Tagline
A tagline is a one-liner that can grab the attention of a potential client skimming through pool profile pages. A carefully constructed tagline may drive potential clients to open your profile and know more about you. This means that if you have no tagline, you are reducing your chances of being contacted by a potential client.
Here are some tips to write an effective tagline:
Use your tagline to stand out
Do you have a certification in translation or in any other area? How many years of experience do you have? What makes you specially qualified for a certain type of project?
Avoid information that is already a given
You don't need to add your language combination or your field of expertise; potential clients already have that information. You should also avoid comments like "quality translation", "on-time delivery", "never missed a deadline"; clients expect this from a professional, it's a given!

Tailor your tagline for each pool
Did you know you can use a different tagline in each pool? This means that you can enter more specific information than in ProZ.com profile taglines. For example, if you apply to the subtitler pool, you can add something like Expert in NatGeo and Animal Planet documentaries.
You may be interested in Writing an effective ProZ.com tagline
3. Description
Your description is one of the main things potential clients are going to pay attention to when they open your profile. Use this short text to show potential clients that you are just the type of professional they are looking for.
Your description offers countless possibilities. You can use this field to talk more in depth about your past experience, mention achievements and milestones in your professional career. Use technical vocabulary and show the world that you are well acquainted with this area of the industry. Be creative and show how original and innovative you can be as a professional.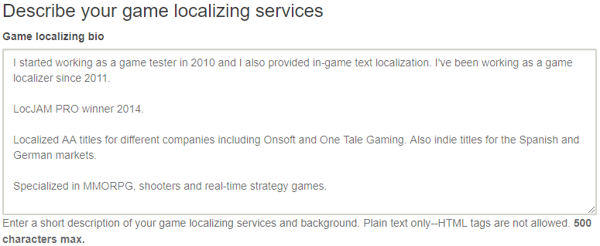 In a few words...
Examine your profile carefully and make sure you don't miss any field. Empty fields are basically lost space that you could be filling with your voice. The more complete your profile is, the more information potential clients will have when considering you for a job.
If you need help to complete your profile, just contact site staff.