OK, so you posted your job, sent private messages and now you have many quotes from potential service providers. The next step is choosing who you want to work with. Sounds easy enough, but how do you know who will be the best match, the most reliable language professional?
Here's what you should look for when choosing the best service provider:
The ProZ.com Certified PRO Network (or CPN for short) is an initiative of the ProZ.com community to identify qualified translators in various language pairs.
Being accepted means that the translator has proved to have translation ability, business reliability and good citizenship. Because of this, going with a CPN member is a safe choice!
You will see a red badge in various parts of the site if they are part of the CPN.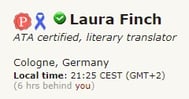 Check their feedback and ratings
Every language professional on ProZ.com has a feedback card where you can see feedback and ratings from previous clients expressing their willingness to work (WWA) again with them. You can check their feedback card to see how their clients feel about the work they've delivered and some details of the project (note that some details may be available only to business members).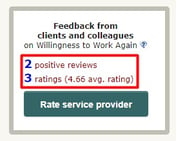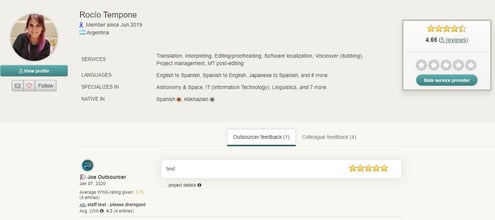 Check if they have verified credentials
ProZ.com verifies language-related credentials reported by ProZ.com members:
Accreditation issued by authorities such as: AAIT, AAIC, CTA, etc.
Language-related academic credentials or degrees issued by accredited educational institutions
If their credentials read as verified, that means that a ProZ.com staff member has personally reviewed and corroborated the user's reported education.

Check if they are verified members or users
The Verified Identity Program (VID) is a means to confirm the identity of interested site users to increase mutual trust across the site.
A check mark appearing in a user's profile means that the identity of the person has been verified by site staff or by someone with the ability to verify identities on the site. Clicking on the check mark will provide more information. Access to this information may prove useful in assessing risk when forming new online relationships.

Check their profile and CV if available
You might ask what happens if the translator you're interested in working with doesn't have feedback or isn't a member of the CPN or isn't verified? Worry not!
Sometimes clients don't leave WWA or are secretive about who they work with, and the CPN and VID screening process can take some time.
In cases like these, checking if they have a complete profile and an available CV is a good idea. A complete profile (characterized by a green check mark) and a nice, detailed CV usually mean that they have put time and effort into it, and many times that translates into how they tackle assignments.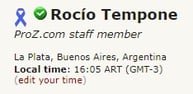 Now that you know what to be on the lookout for, why not comment on some risk management strategies you use when recruiting!
If you need help or have further questions, don't hesitate to contact our support team.