This year, ProZ.com celebrated International Translation Day with a three-day event that featured live workshops, over 20 hours of free content, networking sessions, and giveaways.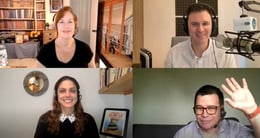 This year's edition, "Bringing together the global languages community", included talks and panels on topics that ranged from interpreting to volunteering, cultural adaptation to client acquisition, language rights to fintech, and more. The ITD online conference brought translators, interpreters, project managers and agency owners, culturalization experts, proofreaders and editors, transcreators, subtitlers, localizers and language advocates from over a dozen different countries to share their knowledge and expertise with the ProZ.com community.
At the end of the event, some lucky winners took a prize home: Heather Watson, Paulette Pagani and Yuna Guillamot won a Trados license, Barbara Wiebking and Óscar Ródenas Laprada won a ProZ.com Plus membership, and Vladyslav Nestertsov Belyake, and Stefan Mitterdorfere won a ProZ.com eLearning course.
And, if you missed any presentations or would like to relive them again, now's your chance!
Remember that the ITD recordings will be available to all ProZ.com users for the next two weeks. After that time, the recordings will be available to Plus subscribers and business members only.
To watch any of the recorded sessions, all you have to do is head to the ProZ.com TV event page and look for the "Event Posts" icon on the player: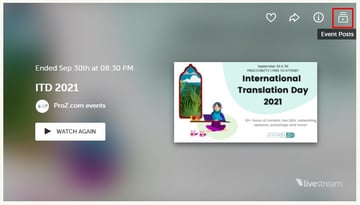 This will display all sessions so you can choose which one you'd like to watch: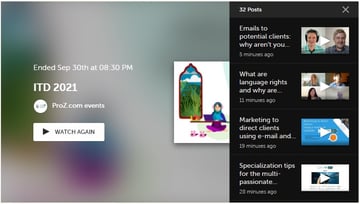 Here's what some of the attendants had to say about the event:
Everything was perfect. The lovely host and the great knowledgeable and friendly speakers, all were perfect! Many many thanks to all of you for your generosity.

Thank you so much for your efforts to organize this fantastic annual event. You have helped me learning so much over the years and it means a lot to me.

Kudos to Paul Urwin for fielding viewer questions and ensuring interesting, lively conversations during the Q&As; excellent job.

I really am enjoying being a part of this language-involved community. I have a vision for my future, but no one in my family understands what I'm trying to accomplish. So, it is really nice to have so many people globally to be able to relate to and learn from as well.

I am so grateful to all of the ProZ.com host(s), volunteers, and presenters! Very helpful information to all of us with little resources on our own, but also to those of us that are incredibly interested in building a successful translation career, nevertheless.
Thanks to everyone who attended this year's conference and made a celebration out of International Translation Day 2021!