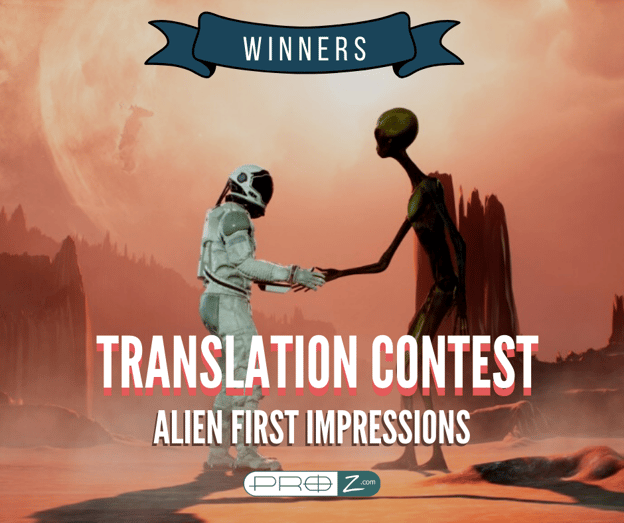 Another ProZ.com translation contest has come to an end, and we finally know who the winners of "Alien first impressions" are in the following language pairs:
English to Russian: Anna Chalisova
English to Arabic: Mohamed Mahmoud
English to Portuguese (EU):Nuno Couto
English to Amharic: Fasil Bogale
English to Hindi: shafique alam
English to Japanese: Takafumi Miyauchi
English to Slovak: Zuzana Kapustova
English to Swahili: Nuhu Bakari
English to Turkish: Yunus Can ATLAR
English to Bulgarian: Yavor Dimitrov
English to Dutch: detextive
English to Greek: Marianna Tsatsou
English to Romanian: Aurelia Popa
English to Somali: Abdulkadir Qorane Suleiman
English to Thai: Somkiat Sawadram
English to Urdu: Khalid Malik
Spanish to Italian: Cristina Bufi Poecksteiner, M.A. and Annibale Marsili
French to Portuguese (EU): Nuno Couto


Winners could not be selected in other language pairs, since there were not enough votes or entries submitted, but they are available here for you to provide feedback.
Congratulations to the winners! And thank you very much to all participants.
You can stay updated with ProZ.com contests news by subscribing to contest notifications here.
Happy translating,
Julieta