The best game localizers are applying to earn a place in this pool. There's nothing like it out there.
Below you will find some tips to get your application going in no time.

Apply to the Game Localizer pool
Complete every field of your application
Submitting a complete application is where most applicants fail. Fully completing your application shows your commitment to this pool. Before you submit your application, double-check that:
You have written an awesome

tagline.

Your profile description mentions the titles you have localized.

You have uploaded a nice and clear profile picture, showing your face.

You have allowed your full name and surname to be shown (this is mandatory!).
You have entered your main working language combinations (no more than four).
Your ProZ.com profile really matters
Whether it is a client or an application reviewer, having a complete profile makes a difference. You don't need to tell your clients that you are professional, reliable and experienced; each section of your profile shows them that you are. Have you been screened? Do you have certifications? Do you have KudoZ points? What are your clients saying about you?
There are many sections of your profile that are checked when you apply, so it's a great idea to:
Show your passion for game localization
Believe it or not, your profile picture says a lot about you. If you submit an application with a profile picture, site reviewers will get a glimpse of your personality. Reading an application without a profile picture is like assessing a robot, not a real person.
So, make sure you choose a picture that best represents your skill and passion for video games and game localization. A picture of you wearing a headset at a conference may be more appropriate for an interpreter. A picture of you next to a joystick and a huge screen monitor may be just perfect.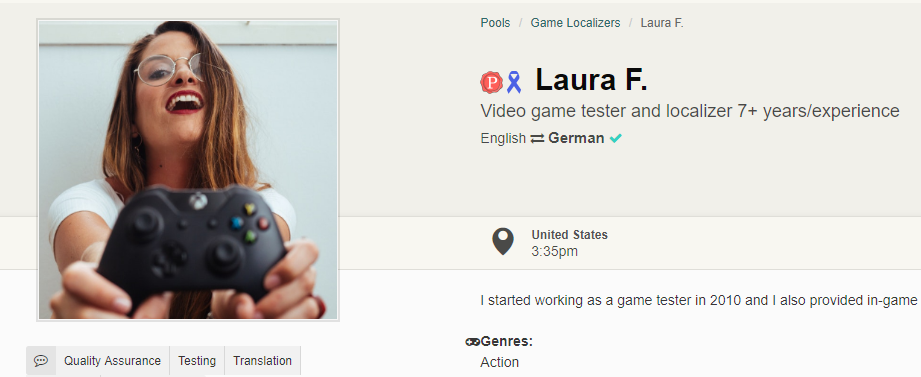 Show yourself as part of the gaming world.
Communicate your experience to your audience. Use your profile description to tell your profile visitors why you are a suitable game localizer for their games. It's a good idea to mention the games you have localized in the past. Did you translate in-game text for Fortnite? Did you localize game descriptions in Steam? Mentioning the titles will also let your profile visitors see that you are game-savvy.
Some localizers also like to include the game genres and the number of words localized. This is a great idea because it gives potential clients a more detailed idea of what your specialty is. Localizing a casino video game and a MMORPG may require considerably different language skills and background knowledge.
Have those POs at hand!
After your application is submitted, you'll be contacted by site staff. You will be in contact with one of your application reviewers, so just be open and tell them why you'd like to be in this pool. Remember that site staff is here to help you. Just in case, have any of the following at hand:
Any invoice or PO for a game localization project.

Name of any company you've worked for or any game you've localized.

Certificates or awards in game localization.
But that's not all. As a game localizer, there are many ways in which you can demonstrate your dedication and experience in game localization. Have you participated in LocJam? Does your name appear in the credits of an indie game? Have you posted a YouTube video game walkthrough? Do you have a blog dedicated to the video game industry?
Join the Game Localizer pool now
Are you having a hard time filling in your application? Ask site staff for help.