When an outsourcer and freelancer meet via ProZ.com and agree to do business, neither side is charged any commissions or fees.
Outsourcers may want to make sure the payment process can be completed and the freelancer is payable. Adding PayPal or Skrill payment information to a profile is one way a translator may show payability.
Adding PayPal information to a profile has been available for years at ProZ.com. Any information added can be shown only to outsourcers, or to no one.
First, set up a PayPal account
Navigate to your Profile updater, click on Financial section from the menu in left column
Enter the email address used to set up the PayPal account in the PayPal email space
Be sure to click on Save and update profile once you are done.
Follow those same steps to setup your Skrill account.
This information may be edited in the Payment methods accepted area of the profile. Choices for payment methods accepted include: Visa, MasterCard, Discover, American Express, PayPal, Skrill, Wire transfer, Check and Money order.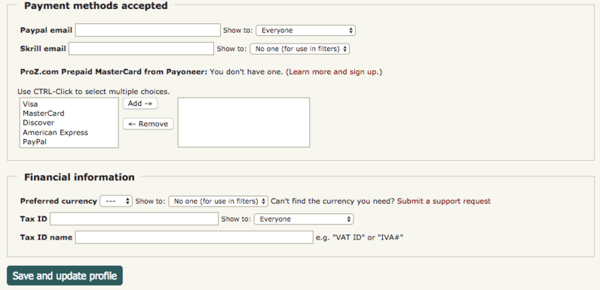 Additional payment features will be available soon at ProZ.com.