This is a guest post from one of ProZ.com's advertising partners, Nuance Communications, Inc.
By: Lester Grinnings
The economics of being a freelance translator are simple. The more you bill, the more you get paid. So, it only follows that any efficiencies you can introduce to your process would remunerate in either money or time. As a freelance translator, typing is a significant part of your daily regimen. Unfortunately, typing is also a drag on productivity. It's tedious, time-consuming, and when you get paid by the word, the number of words you produce matters. A lot.
Enter Dragon Professional Individual speech recognition. Dragon has made its name by allowing users to zip through their everyday workload three times faster than typing – simply by speaking. You see it in futuristic TV shows and movies; people dictating their thoughts directly to a computer. "Captain's log: Stardate 2073…" Well it's no longer science fiction. That's just what Dragon does. You talk, it types.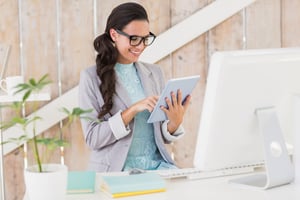 Dragon Professional Individual 15 is an entirely new milestone in speech recognition speed and accuracy thanks to a next-generation speech engine and the introduction of cutting-edge Deep Learning technology. Dragon features up to 99% accuracy from the word "go," never makes a spelling mistake, quickly learns your own special words (jargon, names, acronyms, abbreviations, etc.), and gets smarter and more accurate the more you use it. You can even dictate on the go into a digital handheld recorder and transcribe your audio files back at your PC.
Imagine putting on your headset, reading the client text, and simply dictating your translation directly into a document – your words appearing, instantly and accurately, onscreen as fast as you can speak them. No need to check spelling or retype. An ideal scenario to say the least. Dragon is engineered to unleash the power of your voice – letting you do in minutes what once took hours.
Many busy translators credit Dragon with their prolific output. They've said goodbye to the tedious, time-consuming practice of typing, and hello to the simplicity of using their voice to instantly and accurately turn speech into text. And why not? It's quick and painless. Speaking of painless, Dragon will even help you avoid repetitive stress injuries like carpal tunnel syndrome. Any way you slice it, Dragon speech recognition translates into greater productivity – letting you do more in less time.
With an increasing number of translators seeing the value of Dragon, Nuance has partnered with ProZ.com to offer you our best-selling speech recognition software for the PC – Dragon Professional Individual 15 with a 20% saving until Monday 30th November.. Best of all, there's no risk. Nuance offers a 30-day money-back guarantee, meaning that if you try Dragon and find that it's not right for you, simply return it within 30 days for a no-hassle refund. With Dragon, you'll do more in less time and you'll never look back.
To take advantage of this exclusive Proz.com member offer, click here.