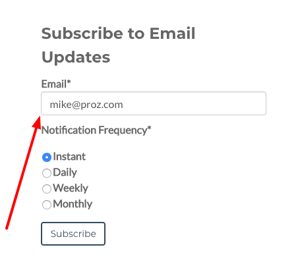 Do you enjoy reading this blog? Stay updated through the email updates feature. You can decide to receive notifications on new blog posts instantly, daily, weekly or monthly.

You're probably at the blog already, so look to the upper right: enter your email, choose notification frequency and hit Subscribe.
You do not have to be a member, or registered at ProZ.com to receive these updates.
Please note, if you received updates from the Translator T.O. : A blog for translators, from the ProZ.com site team those subscriptions were not moved to this blog.
Pick your update frequency:
Choose instant to receive an email update as soon as the blog is published
Daily updates will send one email each day that there is a blog published
Weekly will aggregate the blogs posted that week
Monthly is like your blog newsletter. Review all the posts from the month all at once.
Got ideas for the blog, or want to write something yourself, let us know in the comments or reach out directly.