Do you find that when you try to pay a freelancer with PayPal, they can't accept it? ProZ*Pay offers you the option to fund your payment with PayPal while the recipient receives payment in the way they prefer.

Funding an individual payment with PayPal can be completed immediately through ProZ*Pay.

Fund with PayPal
1. Start the process by visiting https://www.proz.com/pay or the payment link for your service provider. Just click on the 'Send payment' link in the ProZ.com, from the ProZ*Pay link on an invoice, or via a shared custom payment link.


2. Choose PayPal as your Payment method.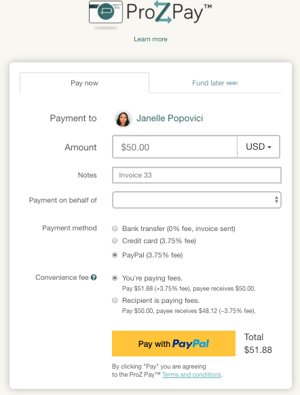 3. Complete funding with PayPal

The freelancer receives an alert that the payment has been funded. We then send them instructions for withdrawing those funds through ProZ*Pay within one business day.

Freelancers can opt to receive the funds through bank transfer, PayPal, Payoneer, TransferWise and many other services.
Need help setting up payments? Email payments@proz.com for individual support.