This guest post was written by the Portuguese Association of Translators and Interpreters (APTRAD). APTRAD will be hosting its first in-person event since 2019 on April 23, 2022.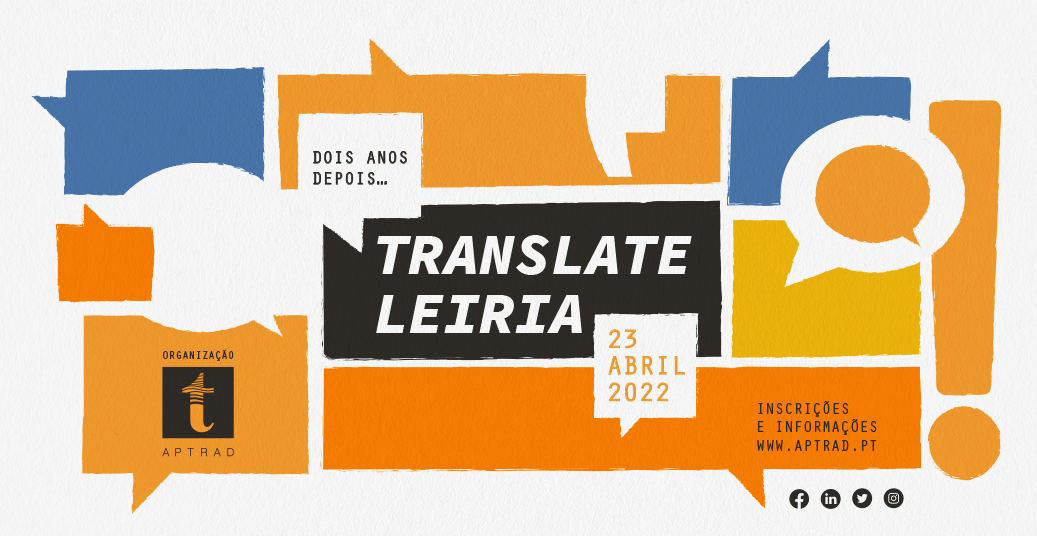 As part of the work we perform for the professional development of our members and to improve the quality of the market in general, APTRAD, the Association of Professional Translators and Interpreters working to and from the Portuguese language in all its variants, will be hosting its first in-person event since 2019! TranslateLeiria will take place on 23 April at Hotel Eurosol Leiria & Jardim, in Leiria.
APTRAD's motto - Interpreting the present to translate the future – reflects the Association's aim to promote and foster the growth of its professional members, and to support the integration as professionals of all future translators and interpreters into the market.
Pursuing this thought, the event will be a one-day event, free of charge for members of the association and open to the entire translation and interpretation community. There will be three simultaneous tracks, with presentations and workshops on the topic "Two years later... challenges, achievements, changes", in different areas like: remote simultaneous interpretation, audiovisual translation, medical translation, inclusive language, and many more!
As in 2019, where we welcomed more than 150 participants, we are all trying to turn this event into a big reunion party after the COVID-19 restrictions, for translators, interpreters and linguists in general joining us in the city of Leiria.
Check out the program and sign up here until April 18: https://aptrad.pt/index.php/evento/translateleiria/
To learn more about each of the speakers and their sessions, follow the posts on the event page or on Instagram
We hope to see you there!