Co-founders John DeNero and Spence Green met while working on Google Translate during the summer of 2011. They believed that better machine assistance could make translation more enjoyable for translators and more available for those who seek information. By 2014, a research prototype of an interactive, machine-assisted translation system had been built. Lilt was founded in 2015 to bring this technology to the world.
Lilt's core mission is to make the world's information accessible to everyone, regardless of where they were born or the language that they speak by joining together talented linguists with modern technology. Their dedicated team is building a new kind of translation environment that learns from linguist input as they work. In this scenario, translators are partners, and the tools are built with them in mind.
By building technology using the most recent advances in AI, machine learning, and natural language processing, Lilt's looking to build a translation experience that takes the headache out of translation, so linguists can focus on doing great work for the customers.
The Lilt approach
Since they approach localization in a totally new way, for both customers and translators, full-time employees are a mix of people from all sorts of backgrounds. Some are new to the industry, but are the best at what they do when it comes to machine learning, graphic design, or business-building. Many are industry veterans —some team members are also professional translators! Because everything is done "in-house" (both services and software), they have a fully collaborative approach in the offices. It can be tricky at times working across 4+ time zones, but there's a team-wide meeting every week where they hear from CEO Spence Green and a team member presents on what they've been building. Afterwards, they are randomly split into Zoom "breakout rooms" where they can catch up with colleagues or meet new hires.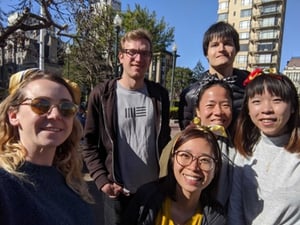 And although it's been on pause this year due to COVID-19, Lilt also hosts a group bonding trip twice a year. Last October, the San Francisco and Berlin teams spent a week in a town outside of Berlin. It was a chance to see old colleagues and meet others for the first time face-to-face. Not only do they do fun activities —play board games, ride bikes, eat delicious food—, they also work on how to make Lilt better —fixing bugs, building new features, and planning the expansion into new language pairs.
What makes Lilt different?
What's unique about Lilt is that they offer a fully integrated experience for their customers. With other service providers, you often have a separation between the LSP and required tools. Lilt is the all-in-one provider managing translators, the translation platform, and the business side. For the customer, this means higher quality content at faster turnaround times without breaking the bank.
Their customers are a mix of small but fast-growing startups and many of the largest companies in the world, including ASICS, Intel, WalkMe, Sprinklr, and more.
On the freelancer side, they also hope to push the industry to treat translators like the professionals they are. Freelancers are paid every Friday and they are set up as teams for each account; and these teams collaborate to create a smooth final product for the customer.
There's a Slack community where translators can network, communicate with the team, and even post pictures of their pets! Lilt offers 24/7 support on their tool for their freelancers —if they have a question or an issue, they can click the "Help" button in the app and one support engineer will walk them through it.
Services and industries
Lilt works with companies in a variety of industries, from cybersecurity to fashion. Right now, translators have the opportunity to work on marketing, technical, gaming, user interface content, and more —but they're constantly expanding into new domains since some customers have never localized their content before and some customers are expanding as well.
In terms of content expertise and language pairs, translators are encouraged to apply even if there isn't an exact project match for them. Lilt is growing quickly and it's always good to have resumes on file of interested linguists since they will be the first on the list to reach out to once new opportunities come along —new language combinations are needed every few weeks!
Lilt also has academic partnerships to further research on machine translation: they have partnered with translation departments at universities around the world to provide free access to their platform. Professors can use the tool in their classes and students are encouraged to provide feedback that can be used to improve usability.
They have been collaborating with non-profit organizations to complete pro-bono translation of materials related to COVID-19 as well.
Do you want to join Lilt's team?
Above all, the team values translators who are curious about changing the industry and who want to be a part of building something great, so if you feel like you could be a good match, don't hesitate to reach out and send your CV! Lilt actually allows translators to apply directly through their site. You can also check their job postings over at ProZ.com for specific projects.
This post belongs to ProZ.com's
Business Members

Spotlight series, dedicated to bridge the gap between Business Members and other businesses and freelancers who might want to work with them.