Christian Nielsen-Palacios is a man who has learned the meaning of the word "enough". At 65, with two grown-up sons, a steady stream of texts from his favourite agencies, his house in upstate New York paid for, and all his essential bills covered, he's reached a place of satisfaction that will no doubt be the envy of many. But it's been a long and winding journey, which began far from where he is now, with several serendipitous events as milestones along the way...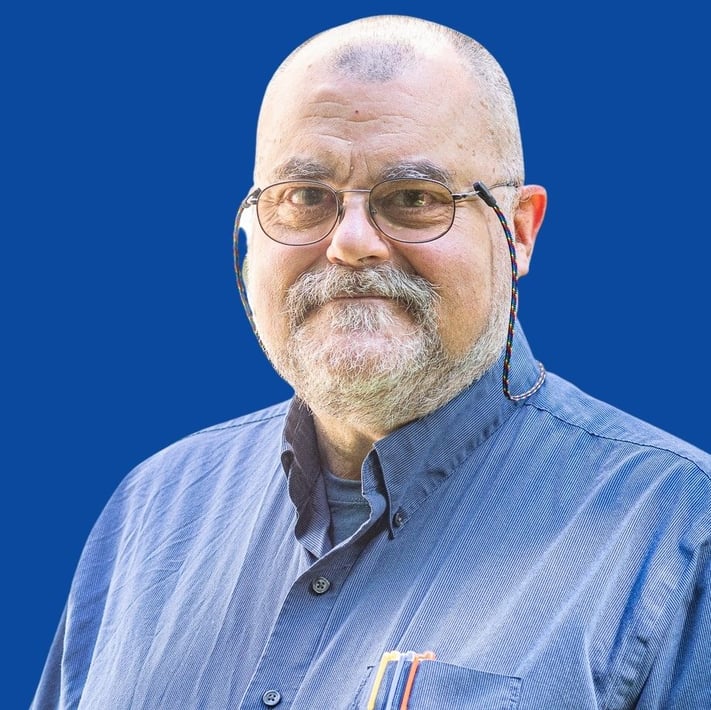 Take his very existence, for a start. Christian's Danish father had been posted to Venezuela back in the 1950s to market Danish hams and sausages. Back then, you could see donkeys on the streets of Caracas, and wake up to the sound of cocks crowing in the suburbs – but such rural charms were not always uppermost in the mind of his expatriate Dad. In fact, throughout his two-year stay he'd been counting the days until his return, and it was only when a colleague set him up on a double date that he met the Venezuelan woman who would become Christian's Mum. He ended up staying for three decades.
Christian was born and raised in Caracas, but around the age of 9, when his father needed medical care back home, the entire family relocated to Denmark for 10 months. Christian was suddenly plunged into the Danish education system, and certainly learned to get by in Danish with his new schoolmates, but the frequent and insistent corrections of his father didn't help: Christian and his sister soon decided to speak it no more. Besides they were homesick, missing the sun and colour of Latin America.
Following their return to Venezuela, it was at high school that Christian was really exposed to English for the first time. Meanwhile, both his parents spoke the language, and there was plenty of reading material around the house, from TIME and Newsweek magazines, to the Reader's Digest, and the young student was particularly drawn to the latter's popular "Increase your Word Power" feature, which focused on building its readers' vocabulary. Armed with a dictionary, he read widely, which possibly explained his rise to being one of the best students in the class. And it was while still in high school that a landmark event occurred in what would later become his career as a translator.
This was the early 1970s, when the musical Jesus Christ Superstar became a smash hit. Now, given that Christian was attending a school run by Jesuits, such a show was perhaps not an obvious contender for the syllabus, but an enlightened teacher was up for the challenge – as long as the entire text was first translated into Spanish. So Christian set about the labour of love with two other high-flying students, one of whom, Michael, went on to be a full-time translator, and many years later became Christian's bridge to joining the profession himself.
But first there was an interlude as an architect – a profession Christian still practises to this day. His aim was to study architecture at university, but his father was wary of the political instability around the campus in Caracas. His business success (by now he was importing toys, including LEGO) enabled him to send Christian to a boarding school in New Jersey for a year (Christian now jokes that his education was funded by LEGO). Although fluent in reading and writing, the young student was taken aback by the sheer speed of even simple spoken English in the US and felt panicked by the experience. Whereupon his Dad hired one of the school's Spanish teachers to bring Christian up to speed, with two hours of daily tuition. Homesickness had struck again though, and Christian decided to study in Venezuela after all – but took less time than some of his contemporaries because of that foreign educational experience, graduating in just 7 years.
Incidentally, the language theme is being passed down the generations – a fact of which Christian is extremely proud. One of his sons graduated summa cum laude in Mandarin, while both speak excellent Spanish. Christian himself also added French, German and Italian while at university, and even attempted to learn Japanese.
He spent three years in the Venezuelan capital as a practising architect, before opting to do a Master's at the prestigious Cornell University in Ithaca, New York. His plan was to spend two years there, but in an echo of his father's trajectory, went on to spend 38 years in the town, bringing us right up to the present. Ironically enough, it took him almost all that time to complete his degree. Having written and defended his original thesis, a technicality meant that certain changes had to be made to the script, but life got in the way. It was only recently, when reconverting his grown-up son's bedroom back into an office that he discovered a CD with the original file. Miraculously his computer was able to open the WordPerfect programme, and following a chat with the same thesis advisor – now approaching retirement – who had always felt guilty about requesting the changes, the work was resubmitted unchanged. The Master's was duly awarded in 2018, and the thesis has now been self-published on Amazon.
As for his parallel career in languages, it was when one of those initial trio of schoolboy translators got back in contact and offered to put Christian in touch with some of his own agency clients that the idea took root. Back then, Christian was happy to work for extra money "to pay for diapers", but found that he loved the work. His background in architecture had given him a keen eye for detail – spotting the tiny change between a diagram on p53 and the one first introduced on p7 for example – and so he took to it easily. In an ideal world, he would have made a living from nothing but architecture texts, but they were few and far between, so he's since expanded his repertoire to all kinds of documents except legal.
These days most of his clients are agencies, with the odd one-off tasks for direct clients. 80% of his work is still in proofreading, He's happy that way – not for him the whole apparatus of marketing, visiting clients, wining and dining. He's far more content to receive the work in his inbox from loyal agency clients, some of whom go back almost 30 years, scattered around the United States.
He comes to the group to enjoy the sheer range of perspectives, and is a daily user of ProZ.com's terminology and KudoZ pages, which have been an endless source of diversion.
Having worked both as a freelancer and an employee over the decades, commuting for 3 hours a day at one point, as well as working at a local firm just down the road, Christian has decided at this stage of his life that having an office just ten seconds from his bed is by far the best of all possible worlds. Bringing us back to that sense of contentment mentioned at the outset – not a bad place at all to have ended up, geographically, professionally, financially, and emotionally.
To contact Christian, go to: