Many translators speak of how their final career choice was somehow the result of an action or decision by one or both of their parents, but few trace the journey back two generations to a grandparent. However, that's exactly the case with long-term ProZ member Mario Freitas, whose grandfather – even though he wasn't a career diplomat – served as Brazilian ambassador to El Salvador, Honduras, and Lebanon. It was in Beirut that Mario's parents met – his father was of course Brazilian, and his mother Lebanese – and it was precisely because of that cosmopolitan experience that his father later placed Mario in an American school in their hometown of Belo Horizonte.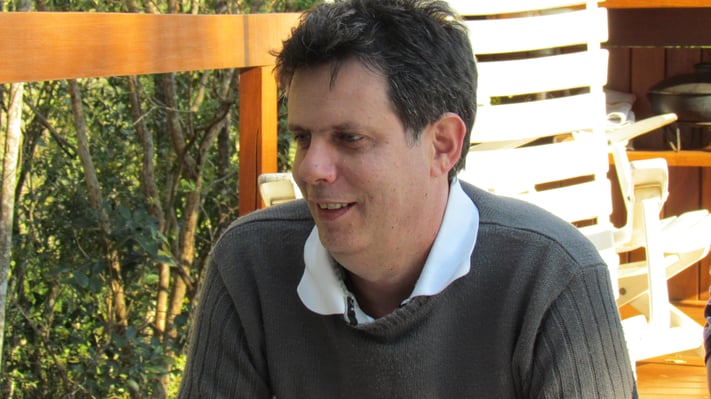 Mario had in fact started learning English at the age of 4, enrolling in the American school eight years later. He stayed there right the way through to graduation, by which time he was of course fluent, besides being able to get by in French and Spanish and knowing some basic Arabic from his mother.
His first translation experience came soon after that. While still working as an intern, he photocopied a poster advertising his services and took it round to various local clients. These were the pre-Internet days when you not only picked up your texts but also delivered them in person. But despite this small business initiative working out well, Mario grew up in a culture where you sent CVs to companies and hoped to find a "good job" (something he claims does not actually exist). So that's the route he followed for the first 20 years of his career, working in a series of corporations. It all seemed fine at the beginning, until he realized, a few years in, that there were no real career prospects, and that the most you could ever hope for was some middle-manager position allowing you to take home $3000 per month at the very outside. Besides that, with some companies folding in various crises and others deciding that contracts would end along with temporary projects, there wasn't a great deal of stability.
The final straw came after yet another project came to an end when Mario was 46, and he decided to invest in his career as a freelance translator. In retrospect, he says he should have made that decision ten years earlier, as his life has been incomparably better ever since.
He started out by bagging a single client which took up all his time. However, when he decided to spread his wings a bit, a friend advised him to check out ProZ.com. He joined, and then spent 6 months tirelessly answering KudoZ questions until he made his way to the first page of the Directory, and the platform has been the main source of his clients ever since. Even now, Mario says he has the ProZ page permanently open on his computer.
From the start his clear preference has been for agencies, and he paints an articulate picture to defend his position. Unlike many direct clients, he says, agencies understand the "game", and he has no interest in marketing or going out regularly to meet new clients. Of course, that entails learning how to manage agencies too. His view is that far too many translators start out with a negative view of the relationship, looking for examples of "exploitation" and taking offence at the slightest perceived infraction. As someone with three decades in business, he realizes more than most the need to build empathic, healthy relationships, to give as well as take, and to prize long-term loyalty over short-term ambition. To this day, for example, he always sends a note acknowledging receipt of a payment. It's a little thing, but helps business go smoothly. As a result of his attitude in general, he has several clients who respect his professionalism and have been with him for over ten years.

Of course that doesn't mean that every agency is right for every translator. With substantial memories built up over 15 years in his CAT tools, Mario is averse to working with online client platforms for example. Similarly, he doesn't enjoy collaborating with certain academics who demand over-literal translations. What's more, for various reasons, chiefly financial, Mario has a preference for clients in the northern hemisphere, who currently make up 85% of his portfolio (the target is 100%) as against 15% local agencies. It's all about knowing what you want, and what you don't want – and carving your career out in exactly the way that suits you.
He's never done a translation course, and takes a critical view of them. That may not please everyone, but he insists that experience carries far greater weight than classroom theory. It seems to have worked out for him at least.
Mario's aim is to receive texts all the time with minimal marketing effort – to put in 8 hours a day and get through around 120,000 words a month – and he's pretty close to achieving that right now. Translating between English and Brazilian Portuguese, his main focus is on technical/engineering, law/contracts and business/finance, and he's busy all the time. So busy in fact that he restricts his social media use to WhatsApp and Facebook, and to just five groups, including our own, primarily to inject a little company into a solitary professional life. Mario freely admits his commenting style can border on combative at times, but once again he has no problem with that. A few people have blocked him over the years, he says, but then dismisses them as "snowflakes". Whether you agree or not with this stance, you can't help take note of a certain frankness and consistency…
Mario is married with three kids, and two dogs, so there's plenty to keep him occupied on the home front. He's not a big fan of exercise but throws himself into two pastimes: DIY and cooking. He masters a range of styles, including Lebanese and increasingly Japanese, which his wife loves. There's a balcony outside with a barbecue and space for up to 15 people. The perfect venue for a translator party? For non-snowflakes only of course…
To contact Mario, go to:
ProZ.com Profile
LinkedIn Profile