As a freelance language professional on ProZ.com, there are many ways for you to find work. The vast majority of the workload that flows through the site comes from clients searching the Translators Directory or ProZ Find, so a good ProZ.com profile is a must to meet new clients through the site.
But you can also browse the language jobs posted by outsourcers or end clients, and responding to those offers with a good, effective quote is key in order for those clients to consider using your services. And so the question becomes, how can you write an effective job quote?

There is no end-all template of a good job quote, as the key thing to take into account when responding to a job offer is that it's tailored to the client's needs. What does that mean?
First of all, answer in the language job of the job offer or, if you are sending an introduction letter through the Blue Board, in the language of the agency.
Don't copy-paste your "about me" or your CV. You are selling your services to a potential client, and so you need to cater to their needs. Clients, particularly vendor managers, know how to spot a copy-pasted quote and are unlikely to even bother reading it.
If you don't want to write an entirely personalized quote for each different offer, you can build a few different templates that fit the various types of clients you are hoping to reach. For example, if you are going to be applying to audiovisual, literary, and interpreting work, draft a different base quote for each field that highlights the skills and experience that those clients will care about. A lawyer looking for an interpreter doesn't care about your Aegisub skills, and a writer trying to find a translator for their novel won't care about your HIPAA certification.
Make sure that the subject line and/or first line will catch your client's interest. State exactly why you are the right person for the job. Then, in the body of your quote, be precise and go straight to the point: people in the language industry don't have the time to read long essays. A good trick is to build your quotes with a "short paragraph, bullet points, short paragraph" structure (see the end of the article for examples).

What information needs to be in your job quote?
Your relevant skills and experience, and what makes you a good choice for the job.
The software that you are able and willing to use for the project and, if relevant, the format of the delivery file.
Your delivery deadline (make sure to state the timezone, this is a global industry).
Your proposed value for the project. Don't offer a range! Be precise and, if needed,

negotiate afterwards.
Your terms of payment. Even if the client then proposes a different payment method or a different time frame, it shows that you are a professional and already know the ropes.
Your full contact information. At the very least full name and email, but you may want to include a phone number, website, available hours and timezone, etc.
Last, but not least, a job quote, just like an introduction letter, is a message, and you should address your client in it. Open with a polite greeting and, if the client's name is public on their offer, use it. And always triple-check that you are spelling the client and/or company's name correctly! Actually, spell-check the entire job quote. If there are typos or grammatical errors on your initial offer, the client will not trust you to deliver a good quality translation.
Once you have written the perfect quote for the job, make sure to attach your CV in PDF format, so that it'll be easily accessible and the formatting won't get lost upon import-export.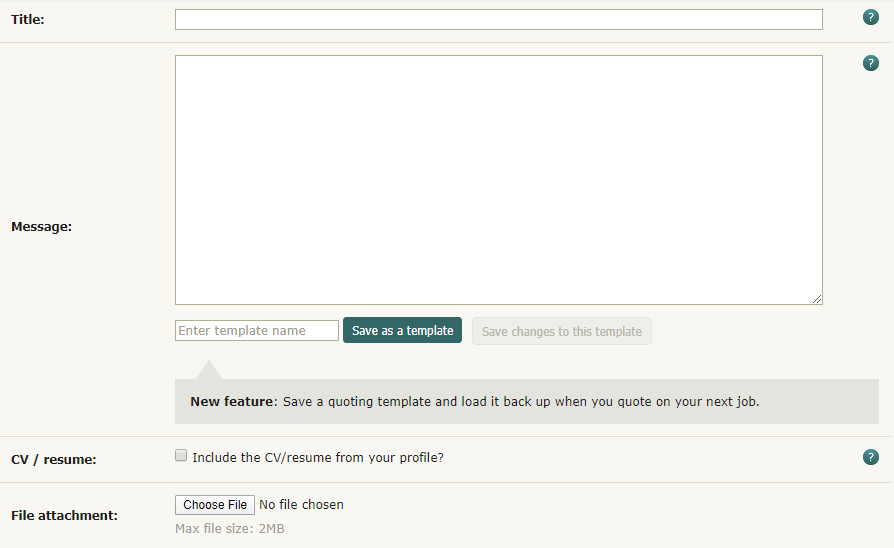 Here go some fictional examples so you can visualize what an effective quote might look like:
Offer: "Croatian into English translators. CLINICAL TRIALS"
Subject line: ProZ.com job offer #1616099: Native bilingual Croatian-English with 5+ years experience in pharmacy
Dear Beatriz,

My name is Almir, and I'm a Native speaker of both Croatian and English, raised in a bilingual household. I'm a certified translator with 5+ years of experience translating for the pharmaceutical industry, for clients such as Bayer and AbbVie.

I have translated clinical trials, pharmaceutical leaflets, product descriptions and patent applications. I am a long-term freelance collaborator of five different pharmaceutical laboratories in the USA and Canada.
I'm a certified Trados user and I own a license for Trados 2017. I can handle package and project files, as well as deliver in whatever format necessary.
My average translation speed is 280 words per hour, but I am able to cover as much as 600 w/h for short emergency projects. My standard rush fee is 45% over the final cost, but it may be negotiated.
My rates for pharmaceutical translation are of 0.09 EUR per source word. I accept payments through ProZ*Pay, PayPal and wire transfer, and my standard payment deadline is 30 days after invoicing.
For more information, feel free to contact me at almir.translation@gmail.com at any time, or you can reach me at my phone number +1235485484552 between the hours of 9 and 20 (GMT+5).
Find my CV attached to this email and, for translation samples, please see my ProZ.com profile at the following link: https://www.proz.com/translator/3434545

Looking forward to our professional cooperation!

Best regards,

Almir Bosch
Offer: "SEEKING JAPANESE LINGUISTS FOR THE AUDIENCE"
Subject line: Offer #1615373: IT developer & native Japanese speaker with Wordfast experience
Dear Kory,

My name is Nao, an IT developer and translator based in Kobe, Japan. I'm contacting you regarding your job offer on ProZ.com, "JAPANESE LINGUISTS FOR THE AUDIENCE".

I have been speaking English for nearly two decades, and I'm certified by Cambridge's ESOL. In the two years I've spent working as a freelance translator, I've grown comfortable with the use of CAT tools, and my preferred software is Wordfast.

I have been working in the field of IT for 12 years. In spite of my lack of experience in marketing, my work has mainly focused on front-end development and on creating an enjoyable, dynamic user experience, and I am eager to learn about a new field.

My standard rate is 35 USD per hour, with payments up to 45 days after invoicing. I am most comfortable with payments via ProZ*Pay or PayPal. Find my CV and portfolio attached to this message.

If you have any inquiries, feel free to contact me at my email, transnao.jpn@gmail.com and I will get back to you within one business day.

Best wishes,

Nao Tadenuma
Offer: "English/French Subtitlers Wanted!"
Subject line: EN/FR subtitle artist 5+ years experience
Dear Alexandra,

Nice to meet you. I'm John, a native British English speaker with over 5 years in audiovisual translation. My experience in subtitling includes documentaries and television series both for the French and British markets.

I have completed the registration form, and I fullfill all requisites. My rates start at 7 EUR per minute. Please, find my CV attached. Within it you will be able to access a link to a cloud folder with samples of my work.

I look forward to working with you.

Kind regards,

John Wright

Editor's note: This blog post was published on September 24, 2019 as part of the ProZ.com Translation Article Knowledgebase. Find the original article here.