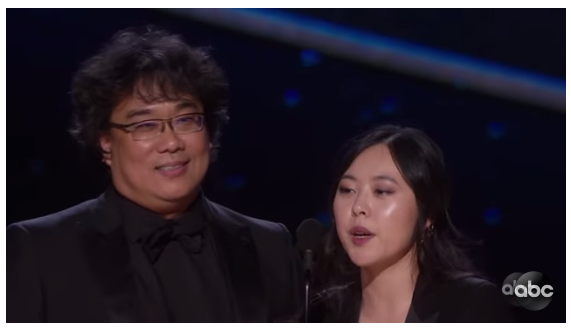 Last night, the film Parasite became the first non-English language movie to win Best Picture at the Oscars. It won 4 awards in total. The wins resulted in plenty of screen time in front of a worldwide audience for interpreter Sharon Choi. But does she have a profile at ProZ.com?
I was curious to see if the interpreter for best director winner Bong Joon Ho was among the 1 million profiles on the platform. So I used ProZ Find™ to search the world's largest community of translators, interpreters, subtitlers and other independent language professionals.
Among the 58 members who offer on-site interpreting from Korean to English, I did not find her. I did not check the 1,726 profiles available to contact that are not members. She is also not one of the Korean to English interpreters screened in the ProZ.com interpreter pool who are located in South Korea.
She may not have a profile yet.
Here is the Best Director clip from the ABC broadcast of the 92nd Academy Awards:
In addition to Best Picture and Best Director, Choi, a 25-year old American living in Seoul, interpreted live in front of a worldwide audience estimated in the hundreds of millions for wins in Best Original Screenplay and Best International Feature Film.
Read and see more about her big night and other stories during awards season:
I did not find her at ProZ.com. Maybe you can.
Should you need an interpreter like her, reach out to one on the platform or post a job at the world's leading community of freelance translators. If Choi or any Korean interpreter is interested in registering on the site, it's free at proz.com/register.