Over at the

Translators and Interpreters (ProZ.com) Facebook Group, there are plans for a series of weekly posts introducing you to the people behind
ProZ.com
. Some of them you may have come across, while others have remained in the shadows… until now! In the weeks and months ahead, we'll get to know all of them in turn.
****************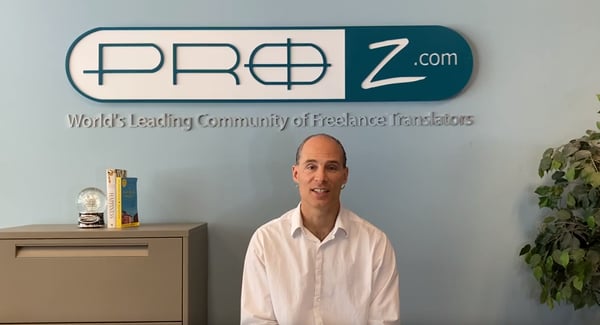 In part 1 of Henry's story, we saw how a moment in the company of Mona Lisa sparked a flash of inspiration that led to some research which resulted in a dream…

It took ten years of tenacious commitment to make that dream a reality, creating the global ProZ.com ecosystem – and it involved a whole series of original ideas. Take the Forum, which offered people a chance to come together and share experience and ideas when Zuckerberg was still in high school. Or the "agree" button in KudoZ, way before Facebook made the word "like" into a noun. Then there were the powwows – an early precursor of Meetup, which has brought translators together in cities across the world for years. KudoZ was being used by thousands of translators before sites like Wordreference or Linguee ever existed… not to mention the most important role of all, bringing clients and translators together, which no other platform was able to do.

That's quite a lot of innovation to come out of one original brainwave. Of course, Henry relied on the support of the team, the programmers, the staff (and we'll meet all of them in due course) throughout that time…. which is in itself a remarkable accomplishment, as we freelancers are not always adept at working in teams, still less creating and managing them.


Now ProZ.com is twenty years young, and it's still growing, evolving, and changing, as the industry itself and the profiles of translators change. There's now an ever greater commitment to freelancer success, alongside tools and services, which have been its traditional strength, and this involves reaching out not only through the site but through the blog, emailing and social media.

Henry's main role these days is to keep bringing in new ideas, to support and coach the team, and to chart the course for the years ahead, looking to grow the membership, the team and the site itself in the most organic and natural manner possible.

So what does he enjoy most about the job today? The answer is no different from what it's always been: serving freelancers, who he sees as intelligent, inquisitive and unpretentious people – often bicultural and multilingual – helping them bring about change in their professional and personal situations across the world, and making a difference.

And last but not least, like all of us, a never-ending love of words the way they can do such weird and wonderful things.

Along the way he's had the rewarding experience of seeing team members join, get married, have kids, raise families and achieve their dreams – with the quiet satisfaction of any small business owner who watches his brainchild grow into something lasting.

So here's to another 20 years.

In the meantime, three things you didn't know about Henry: his family (pictured below) is Japanese, he coaches hockey to young kids in Syracuse (NY), and he's training to be a deacon of the Russian Orthodox church. Not many people can make those three claims…