Last October 23rd, 2021, the Feminist Translators and Interpreters of Argentina (TEIFEM) held their third annual meeting for language professionals to exchange ideas, discuss language-related issues from multiple social, gender, and cultural perspectives, and support multilingual struggles, solidarity, and sisterhood from within a results-oriented group. The event was a perfect example of what TEIFEM is and a great starting point for the discussion of what's next in translation from a gender-based perspective.
TEIFEM emerged in May 2018 as a result of a Twitter exchange among translators and interpreters who felt the need for a space of their own to work together in support of the feminist movement and Argentinian political struggles at the time. The Facebook group that had over 150 requests to join within the first hour of its creation has over 1,400 members now. It serves as a place to share tips and recommendations, but it is also a space where members can post their achievements, ask for help (linguistic or not), and take part in reading groups and a film and series club, among other activity. And this is not all. TEIFEM also organizes topic-based talks and training sessions, including the yearly meeting that was first held in person in 2019, and repeated virtually in 2020 and 2021 due to the current pandemic.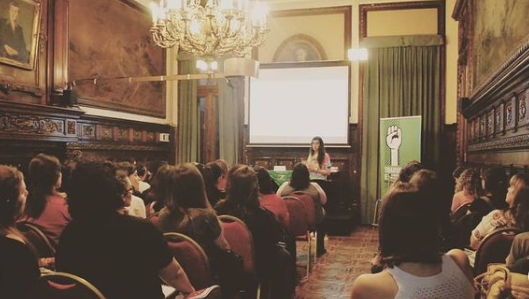 First TEIFEM meeting in Buenos Aires, Argentina - September 2019
The third edition of the TEIFEM meeting was a one-day event offered via Zoom and included sessions on meeting clients, the use of gender-neutral language, legal translation and power, digital and professional gender violence, and remote work and parenting. One of these presentations even crossed the Andes, brought by Javiera Marileo Vargas, a Chilean interpreter and women's rights activist, who spoke about strategies to reformulate simultaneous interpreting to make use of non-binary language.
The event was free to attend, but the group invited attendees to consider donating to No Tan Distintes (Not So Different), an Argentinian organization of women in a situation of social vulnerability.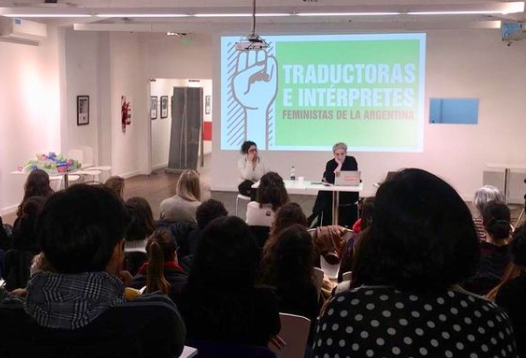 Malena Nijensohn's talk organized by TEIFEM: The history of feminism in Argentina - June 2019
Since the group was created, members have been particularly interested in non-binary or gender-neutral language, that is, language that avoids bias towards a particular social gender. For this reason, TEIFEM formed a dedicated group that reached out to educational institutions and opened the discussion among language teachers and students. This gave rise to numerous exchanges of concepts, ideas and prospects regarding the overall non-binary language approach. This non-binary language commission is to open to volunteers.
Interested in joining? Click here to visit the Facebook group. And don't forget to check the website and the blog.