The events we've looked at so far probably took most of us by surprise. General trends in the language services industry are much less surprising if you have been in the game for a while. We can say that some of these trends have been intensified over the past two years or so, but for the most part they were all pre-existing. In general, we can say that:
1. Demand for language services continues to rise.
Content creation continues to grow exponentially,

Spending on language services will continue to increase,

More languages are being added to the demand in order to reach more people.
There is more and more out there to translate, as we've mentioned, and that is not going to slow down. Even if we remove from the equation the material that nobody wants or needs translated, and the content that we can leave to the machines to translate (some of it generated by the machines themselves), there is still so much being generated at such a pace that it will be a challenge for us humans to get to it all, if we ever do.
The people in a position to spend on both content creation and content localization are being given either steady or increasing budgets with which to do so.
And as more people are becoming more connected from different points of the world (and as companies look to sell to or serve these new consumers in their languages), more and more languages are needed when setting out on a localization project.
2. Productivity is going strong, while automation continues to cut down on menial tasks.
Whether or not there will be enough professional language service providers to keep up with the industry's demand remains to be seen. The highly-skilled and highly-specialized professionals already in the game are more and more productive in their output and processes, which allows them to better address demand (and also earn more). For example, in the past decade the percentage of translators using at least one CAT tool has moved from 80 to 91%.
Among the remaining 9% who do not use a CAT tool currently are most likely a certain segment of translators who are unable to effectively use one for reasons other than the type of work to be done. Many CAT tools present usability issues for the visually impaired, for instance, and between 10 and 12% of translators would consider themselves seriously visually impaired.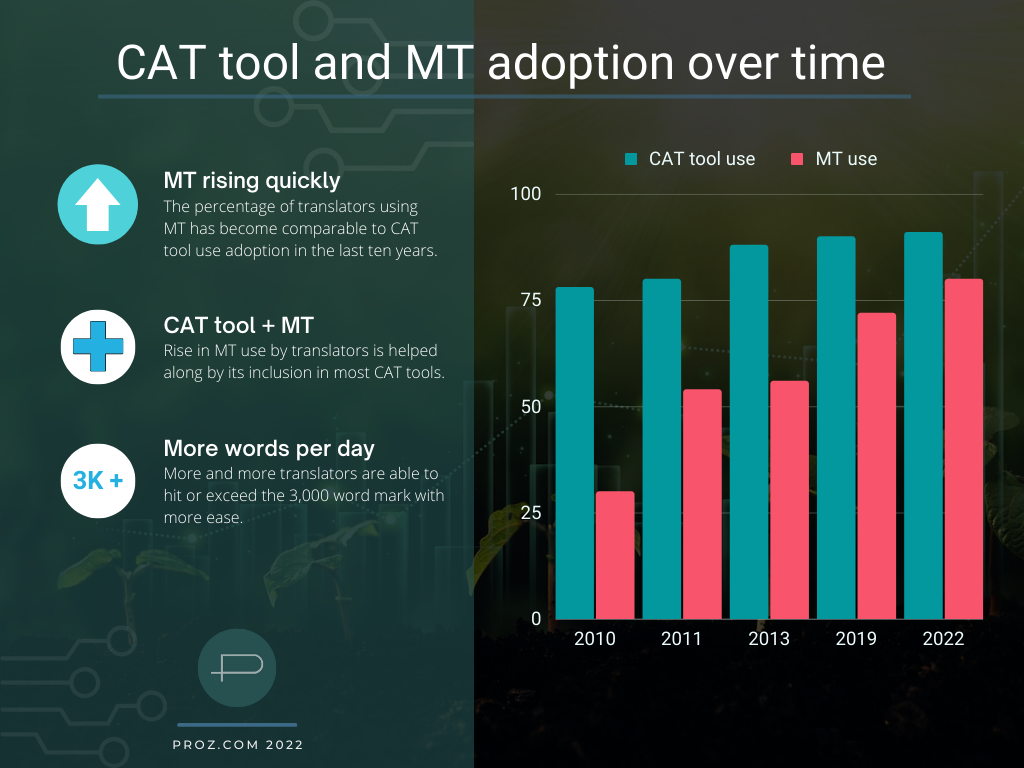 As has happened with CAT tools, the intelligent use of machine translation (MT) has helped to further increase translator productivity. As of 2022, roughly 20% of translators report they do not use MT at all at any point in their work, but its adoption rate as a work tool is far outpacing that which we saw with the use of CAT tools, helped along by the fact that if you are using a CAT tool nowadays, there are MT options baked in there somewhere already.
Indicators of productivity improvements over the past couple of years include translator output in average words per day. Word per day ranges in the middle are flattening out, and more translators are hitting and exceeding the 3,000 word per day mark, for example.
---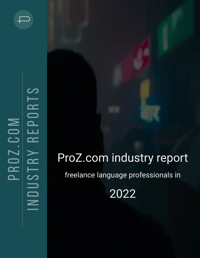 This is an excerpt of the most recent ProZ.com industry report. To read the full report, you can go to https://www.proz.com/industry-report/
ProZ.com industry reports are periodic publications that take a look at trends, challenges, and opportunities in the language services industry, from the perspective of the freelance language professional. ProZ.com paying members enjoy immediate, full access to these reports.
Productivity: A translator's CAT tool is a significant productivity (and quality) booster. Many of them come with a significant price tag, too. ProZ.com Plus subscribers get a floating license to an industrial-strength CAT tool as part of their subscription, no additional investment needed. Right now, they can also get discounts on some CAT tools just for being a ProZ.com member.
If you are not yet a ProZ.com member, you can start now, with special discounts on membership and training until December 15th. Find out more »