Your business page on ProZ.com is the way you present your business to the world. It doesn't matter if who is viewing it is a potential vendor or a potential client, if it is incomplete, you probably won't achieve the results you're hoping for.
So...is your business page complete?
This is how a complete page looks like: you can see a logo, a slogan, a description, languages and industries you work in, services you offer, daily output, number of employees, Blue Board record, etc.

You might be wondering, why is it important?
To start with, by completing these fields, you can quote on jobs on behalf of your business as long as you meet the requirements set by the poster. Note that some jobs are restricted to paying members, so in cases like these, a Business Membership is required.
Also, when a potential client is making a search in the directory of agencies and companies, your company will have higher chances of appearing in the search. You can check your business' ranking in the directory, and read how to improve it here.
How do you complete it?
First, you need to have administrative rights to the business page. To claim your business, you can either click the "Claim business" button at the top right of the business page or submit a support request.
Once you have administrative rights, you need to click the pencil-shaped button below your logo to start editing your page. This window should pop up, where you can complete all the information in each tab and then save it: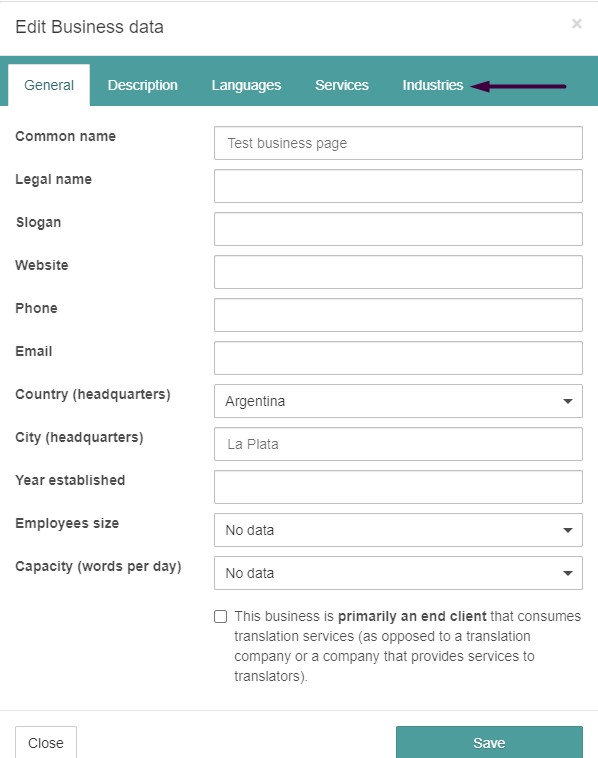 To edit your logo, you need to mouse-over the current logo, and click on "edit". You can choose to either upload an image or copy a link to a image hosted online.

Finally, you can also add employees to the page. All you need to do is click the "Add employee" button and search using either profile link, name or email address:

After looking them up, click add from the list of results that you are shown:

Any feedback on business pages is welcome. To claim your business or find out more, email business@proz.com.