Since its release in 2016, ProZ.com mobile for Android and iOS has already been installed and tried by more than 20,000 translators, interpreters, clients and others in the language industry --22,792 to be precise!
Some numbers
Of these +20,000 industry players, 15,135 have used the app to browse jobs and submit their quotes, and 8,981 have set their availability to let clients know in real time and with a simple tap when they were available or unavailable to take on new projects.
Numbers also show that 2,126 users have searched for terms using the mobile version of Term search and 7,048 have checked KudoZ questions and submitted their answers to help colleagues and earn KudoZ points to improve their position in the directory --a directory that has been checked via mobile by 1,174 app users in only a few months.
Learn more about KudoZ points and directory visibility →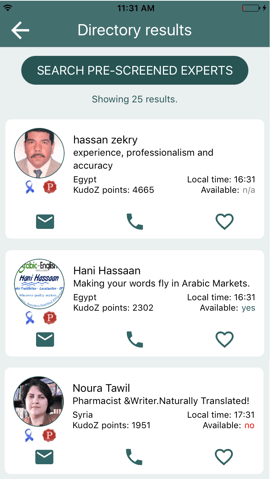 Not enough? How about 118,311 quick poll votes, 5,234 forum viewers and 2,350 Blue Board browsers? Or 259 translation contest entries with 382 votes in 54 different language pairs in less than a week?
See a full list of services included in ProZ.com Mobile →
System requirements
ProZ.com Mobile is supported on Android devices running any of the following OS versions:
Android 4.1–4.3.1 (Jelly Bean)

Android 4.4–4.4.4 (KitKat)
Android 5.0–5.1.1 (Lollipop)
Android 6.0–6.0.1 (Marshmallow)
Android 7.0 - 7.1.2 (Nougat)
Android 8.0 (Android O 3)
And on iPhone, iPad, and iPod touch devices running iOS 8.0 or later.

Membership requirements
ProZ.com Mobile is being provided as a service to every user, and while full access to some of the features is available to paying members only, all features are available to everyone.
See a full list of membership benefits →
Questions? Need help?
The ProZ.com Mobile Team is proud of the app that has been making profesional life easier for an important number of freelance translators and clients around the globe for the last couple of years. We will keep working daily to support the app and to provide the community with even more tools they can use to keep getting the best out of ProZ.com anytime, anywhere.
If you have questions about ProZ.com Mobile or you need help with installing or using the app, you can check frequently asked questions here or contact the ProZ.com Mobile Team at mobile@proz.com.
Have a great week and happy translating!
Lu