Last month we started this series of top-flight LSPs. Now it's time to shine the spotlight on LingoFocus, a medium-size translation agency with an East-meets-West approach born out of the hope and commitment of its two founders.
Dat Doan, a Vietnamese businessman, and Kristian Vike Pedersen, a Norwegian linguist, met in Thailand during their MBA program and quickly became friends over their shared passion for languages and business. The rest, as they say, is history.
LingoFocus was founded in 2014 and they have striven to become the top trusted language partner to break down language barriers in global communications ever since. Their mission as a business is to provide the best language services in an appropriate and timely manner at affordable costs using updated technology and competent linguists, as well as well-trained staff.
They also volunteer and collaborate with Translators Without Borders, Greenpeace International and a few other NGOs with the goodwill to support the world community in implementing good deeds. If you work with an NGO or NPO, don't hesitate to reach out to them!
Not all in the LingoFocus family is work, though. They have started the tradition of taking their permanent staff somewhere interesting each year, either domestically or internationally, to relax and bond together. Planning the annual trip is a team effort that everyone looks forward to!
The team on their corporate trip to Phu Quoc in 2017
Services
LingoFocus is an ISO 9001:2015 and ISO 17100:2015 LSP, specializing in translation and TEP (translation-editing-proofreading), but also increasingly experienced in localization, DTP (Desktop publishing) and post-editing services.
They also provide high-quality interpreting services, with their interpreters trained to use a wide variety of equipment if necessary, and copywriting along with SEO services.
At the moment they specialize in delivering quality Nordic languages (Norwegian, Danish, Swedish and Finnish) as well as some Asian languages (Vietnamese, Thai, Tagalog, Indonesian, Burmese, Korean, Japanese, among others), but are seeking to expand their business to handle more language pairs.
The top areas they specialize in include, but are not limited to: business, marketing, IT, legal, gaming, finance and medical.
East-meets-West approach
Given their two very different backgrounds, Dat and Kristian combine the best of both worlds: know how to talk and get the work done with European and American styles while also being sensitive towards Asian partners as well as knowing what is important and what is secondary to each partner no matter where they are from.
This approach enables them to understand and serve clients all over the world with great cultural understanding, facilitating global business and trade.
What can you expect from LingoFocus as a possible partner?
As part of ProZ.com's Certified PRO Network, it shouldn't come as a surprise that LingoFocus displays both business reliability and good citizenship on the site: you just need to check their spotless Blue Board record and business page and see for yourself.
They value clients who are understanding and open to discussions, ready to voice their concern and willing to work with their team to identify and resolve problems if they should arise. In return, you will find a helpful and caring partner whose translations and other products are done by verified translators and checked by other qualified linguists before finally being doubled checked by trained project managers using a standardized, effective QA process. As a medium-size LSP, they focus greatly on customer service and flexibility so that clients feel the most valued and respected.
As an LSP looking to expand into other languages as well as to grow their team of Nordic and Asian language professionals, they use ProZ.com to recruit. they are mostly on the hunt for professionals that offer translation, editing, proofreading and post-editing services in any area of expertise.
What they are looking for the most in a service provider is a cooperative attitude and a willingness to learn. While translation experience is important, it can be improved over time with practice and guidance (which they offer), so they value a professional who is willing to listen and learn and open to discussing and reviewing errors.
The ultimate goal is to provide quality translation and professional services so that anyone who comes to LingoFocus will have peace of mind and know that everything at stake is taken care of.
Do you think you have what it takes to join their team?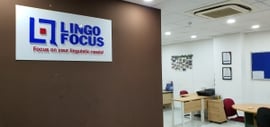 If you see yourself as part of their family, don't hesitate to check their posted jobs on their Business page and head to the applications page on ProZ.com or you can send your CV along with a cover letter and your rates to hr@lingofocus.net
This post belongs to ProZ.com's Business Members Spotlight series, dedicated to bridge the gap between Business Members and other businesses and freelancers who might want to work with them.