Together is an annual two-day event from Elia, the European Language Industry Association, where language service companies and independent professionals convene for open dialogue on industry trends, to learn mutually-relevant new approaches, to update technical skills and, ultimately, develop lasting relationships to serve our end clients better.
With Together 2021 taking place on February 24-26, there are many reasons to join, from excellent networking opportunities to gaining a new perspective on the industry. One of the most compelling reasons to not miss out is the carefully crafted programme, which covers all the topics you want to know more about.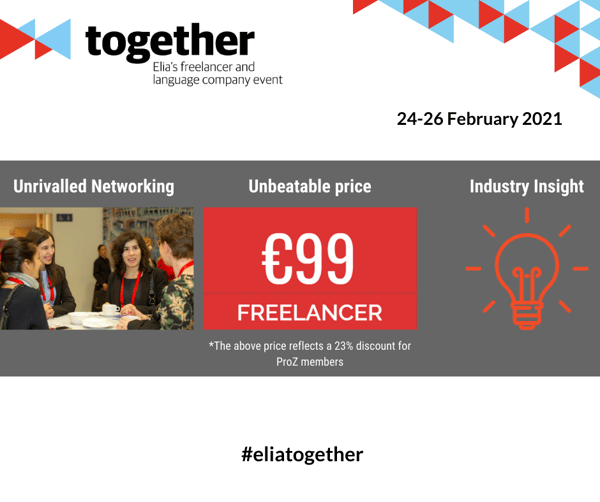 The finest minds of the language industry have been selected to share their many years of wisdom and knowledge and provide answers and solutions to all the critical questions/challenges you may encounter on a daily basis. The theme for Together 2021 is Together At Home with two tracks moderated by experienced industry professionals:
Best Practice for Freelancers and LSPs / Looking Ahead: Trends and Tools
The ProZ.com community has a special discount: 23% off applicable to the full freelancer rate, providing a special rate of only €99. And ProZ.com members who are Plus subscribers can access the Full Together 2021 Registration for only €60 or access to the Together Fair and Event App for just €35.
To register for Elia Together 2021 click here:
If you're a Plus member, reach out to advertising@proz.com to access your exclusive discount!