Join ProZ.com/TV for a free live event September 30 and October 1 to celebrate International Translation Day. ITD 2020 streams live through ProZ.com and its social media platforms starting at 9:20 GMT on Wednesday.

View the complete schedule and watch the event here >>>

Eleven sessions will take place on the opening day. Here are some highlights.

Elena Jiménez Alvarez opens the event with "Yoga at your Desk with Elena". If you spend long periods of time sitting at your desk or in a booth this session is definitely for you. All translators and interpreters welcome. No previous experience needed to join the Mexican Spanish Translator, Voiceover Artist, and Yoga Teacher with +15 years' experience in yoga, mindfulness and meditation.

ProZ.com head of training Paul Urwin provides the welcome and introduces the audience to this year's program. Author, language business owner and ProZ.com facebook group moderator Andrew Morris hosts "Branching Out", followed by ProZ.com's Mike Donlin who discusses "Building trust on the Internet".

Ramsés Cabrera Olivares has made it his purpose to help language graduates transition into the translation market. His talk focuses on conduction, an essential tool for you to create your own success as a translator, even in these hard times. Join him at 11:20 GMT for "Conduction: A Guiding Principle to Getting into the Translation Market".
Demand for remote interpreting is growing. Enrique Manzo, ProZ.com head of interpreting, investigates topics such as rates, pricing models and expected interpreter income in "Remote Interpreting | An Industry Insight for Freelancers".

Claudia Brauer presents "Recharge and Prepare for the New Unknown". In this session, Claudia discusses how "The Only Constant in Life is Change" (Heraclitus) and how skills-building has taken deep roots again. She explains why she feels that specialization is less important nowadays and proposes an effective approach for freelancers in the 21st century.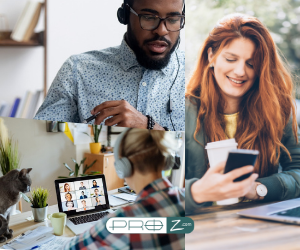 The first panel for ITD 2020 is titled "Effective Collaboration". Leading translation experts Jeannette Stewart, Renato Beninatto, Jeff Beatty and Gio Lester discuss how to improve collaboration across different segments of the industry, and whether this is possible or even desirable. They also talk about the impact of technology on different areas and how all participants can harness the power of the same. Don't miss this high-level panel where you'll learn from some of the top names in translation and localization!

A panel discussion on audiovisual translation called "Audiovisual Translation: Is It For You?" features Rafa Lombardino, Max Deryagin and Hayjor Roca. In this panel, three audiovisual translation experts will discuss the current status of the industry and will give some tips for all of those language professionals that would like to get into AVT, especially into subtitling.

Tess Whitty discusses strategies and actions we can take to generate business and have a more positive outlook for the future. Her talk suggests taking action, keep marketing despite 56% of freelance linguists reporting less earnings in 2020. The presentation is titled "Six Months Into the Pandemic: What Has Changed and What Freelance Translators Can Do to Generate Business".


The final phase of the day is a "Networking session" open to ProZ.com members. For the first time, International Translation Day will include remote networking sessions for members to meet colleagues and peers from your home right after the conference is over. Sign up here.
The two-day event will be available on demand for a limited time at ProZ.com/TV and continues into Thursday, October 1.