Last year, ProZ.com launched a new service called Meetups for members to engage in online networking during this new normal where networking in person became nearly impossible.
This year, ProZ.com teamed up with Terra Localizations to bring you a series of Meetups about game localization. Divided in six levels, the first one —open to members and non-members— took place on June 24.
In this first level of Video Game Localization, Marina Ilari and Alexis Biro provided an introduction for ProZ.com members and users to be able to give their first steps in this area. With over 400 participants, this Meetup was a success but unfortunately our presenters couldn't answer all the questions that attendees asked. Keep reading if you want to know what Marina and Alexis had to say about CAT tools in game localization, valuable skills and assets to acquire, cultural limitations and more!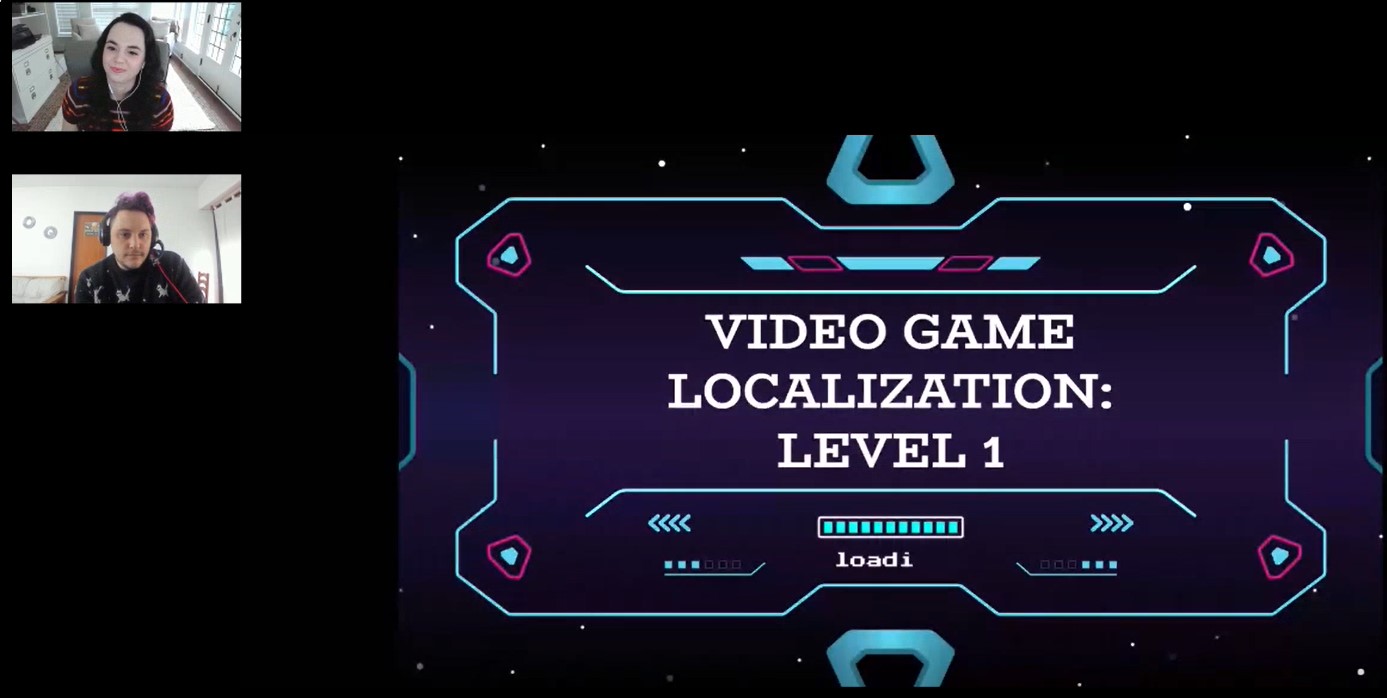 If the client requires me to play the game, is it common to be reimbursed for the play-time?
Generally speaking, no, unless you are hired as an in-house linguist. Many video game companies request their partners to spend a certain amount of time playing their games/franchises and they include that as part of their job within their working hours. Also, if you are collaborating as a freelancer in most cases you will have access to the build and will give you special keys to access all levels and quests. Our suggestion would be to always ask since it is important to get familiarized with the content of the game you are localizing and it is not the same to localize a 2500 words mobile game with less than 3 hours of game-play than a really complex lore heavy MMORPG, for example.
Are there any specific CAT tools for video game localization, or can you use tools such as Trados Studio?
There are many CAT tools available nowadays, paid software and open source as well, some of them are memoQ, Trados, Wordbee, SmartCat, memsource, just to name a few. If you are interested in learning more about them you can join us in our next ProZ.com Meetup that will take place on July 29th where two experts in video game localization, localization Project Management, and CAT Tools will be sharing their knowledge with us.
Did you work in other translation areas before working with games? If yes, how did you make the switch? What skills were valuable? What skills did you have to learn?
Alexis: Before jumping into the world of video game localization I was actually an English Teacher with my translation experience being only small projects related to fiction novels and comic-books. Apart from that, my background is actually in business development. So I should say that the most valuable assets or useful tips that I've taken all throughout my career are the importance of communication in both my native language and the target language(s) that you work with. I'd recommend anyone to do as much networking as you can to broaden your options and connections and to always have a positive and driven attitude.
Some of our colleagues have a background in Project Management and developed some very interesting skill sets such us: orientation to detail, the ability to work around tight deadlines, flexibility and readiness to work with different softwares depending on the needs of the clients, and, one of the most important in this and any other industry: the skill to be a team player to make the most of everyone's strengths and capabilities.
What about tabletop games? It is a growing market. What do you think about that? Does it relate in (m)any ways to video game translation?
Tabletop games relate in many ways to video game localization. For example, Digital Tabletops is a growing market. They are digital variations of tabletop games, which include straight reproductions of existing physical tabletop games, video games that use tabletop game principles as part of their gameplay mechanics, and tabletop simulators that provide a virtual tabletop for conducting this type of games online. So if you have the opportunity of working in a tabletop game, take it, because it serves as a great experience for the future. One of the most famous digital tabletop games is Tabletop Simulator.
Do cultural limitations dictate if a game would be localized in a certain language or would there mostly be a way around this issue? Do translators have to be knowledgeable of the rating bodies?
This is a great question. In video game localization cultural limitations in different markets are usually worked around. There aren't many games that turned out to be banned from a certain market due to cultural differences or restrictions. I think the best way to explain this is with a clear example of a video game that from the get-go, it was controversial to say the least.
And I'm talking about the PSX game, Carmaggedon for example. In this game the ultimate goal was to run over pedestrians and aim for the highest score while doing so.
In Germany they changed actual human beings into zombie-like individuals in order to make it less of an abomination. So as you can see, if they released a game with such a premise with these sort of adaptations, there's a very good chance that almost any game can find a market and a way around the limitations that it could face in a certain country.
As for rating systems, it's always best to know what is allowed and what isn't for the market that you are working to localize a game for. This way you'll have more tools to make a great job knowing the things you have to look out for.
Here are some of the Rating Systems that act on different markets:
ESRB for the US: https://www.esrb.org/ratings-guide/es/
CERO Rating for Japan: https://www.cero.gr.jp/en/
PEGI for European Union: https://pegi.info/es
USK for Germany: https://usk.de/en/
Now, there are games that are banned from certain markets because key mechanics or topics of certain games are prohibited. But in general, everything you receive as a translator is aligned with Rating Systems. And if something for any reason isn't, it's best to be prepared with some knowledge about the rating system acting on your language's markets.
We recreate the source to fit the target culture but what about preserving the source culture and presenting the source culture to the target audience. Do you have any interesting examples?
Yes, there are plenty of examples where the game is specifically centered in a culture or country in particular and in those cases we need to convey that culture and message in the most respectful way, paying special attention to avoid any aspects that may be offensive or misunderstood by the target audience.
Some examples are Age of Empires, Red Dead Redemption, Guacamelee, Never Alone, Call of Duty WWII, Valheim, Assassin's Creed, we actually worked on a LocFact very recently for our podcast where we discussed the cultural aspects taken into account in this game, you can check it out here.
With regards to subtitles localization, what do you feel the difference and similarities with movies and TV series localization are?
The main difference is that a TV or a movie follows a straight storyline, while in a video game the story is up to the player. Also, there are different guidelines to follow regarding subtitling in video games, because for example, in film and television, subtitles don't often compete with any other on-screen text — unless it's the news or a sports program. In games, on the other hand, they compete all the time with lots of other interface text.
In TV or Series, audiovisual content is key, while in video games translators rarely get to see the game, let alone play it.
If you want more insight about this, we talked about this particular subject with Denisse Kreeger (Head of Global Localization Production at Riot Games, former Manager of International Dubbing at Netflix) in the latest episode of Open World.
Now that you're up to date, how about you pre-register for the next Meetup in the series? Sara Rodríguez and Guillermo Umpiérrez will go over everything you need to know about CAT tools in game localization. And get ready for a surprise from our sponsor memoQ!
Remember that the next five levels are just for ProZ.com paying members. Not a member yet? Upgrade now.
Did you miss the first level? Don't worry, it will be available to watch until July 28 for all members and users on ProZ.com/TV. After that, it will only be available to ProZ.com's Plus subscribers.
Hope to see you there to learn more about video game localization and network with peers from all over the world!