You already know what mistakes to avoid when posting a job and how to make the most of your searches with ProZ Find, as well as how to choose service providers based on their feedback and qualifications, but what if you need to ensure the confidentiality of a project?
To this extent, ProZ.com has developed the SecurePRO™ program to enhance the ability of LSPs and freelancers to ensure the confidentiality of end-client data while carrying out work in an efficient manner.
One of the first steps is recognizing what security practices are mandatory for your projects, and then which freelancers comply with these practices.
You can find a collection of security practices compiled from information entered in free text form in SecurePRO™ cards by freelance language professionals at ProZ.com here.
Now that you know what the program is, it's important to know how to look for it:
On profiles
Everyone can complete their SecurePRO™ cards, but for it to be visible, either the owner of the card or the viewer must be a Plus subscriber or a business member.

On searches
When you make a ProZ Find search, if you're a ProZ.com business member you'll be able to filter results based on if they have a SecurePRO™ card and with just one click on the logo you'll be able to see the card without leaving your search.

Other information on the SecurePRO™ card
Not only can you find the list of security procedures on the SecurePRO™ card, you can also find identity information, such as:
Name
Phone
Social networks
Address
Citizenship
If the user's name and/or phone number have been verified, you will see this information reflected next to each item.
Remember that you can also filter searches by identity verification: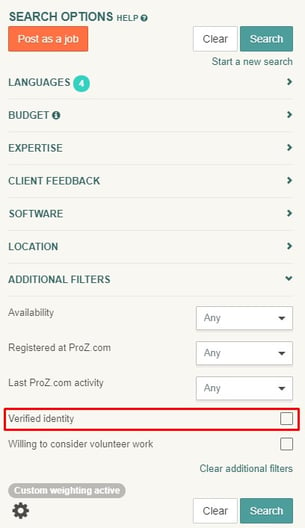 Have any questions regarding the SecurePRO™ program? Are there any further procedures you'd like to see in the list? Share your thoughts below or contact the ProZ.com support center.