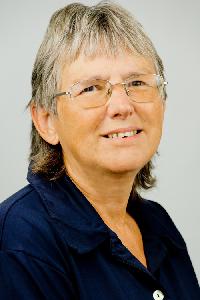 "I officially retired" said Sheila Wilson in a recent email message. "Thank you and all the team at ProZ.com for everything the site has provided for me since 2007."
Sheila Wilson is a French to English translator who has been in the site since the beginning of 2007. She became a paying member in July that same year and from then, dozens of other site users have benefited from her active role and knowledge. Voted by colleagues as the most helpful contributor, her name was part of the ProZ.com Community Choice Awards in 2013, 2017 and 2018. She has made over 6,800 forum posts and donated more than 17,000 words to Translators without Borders. She also served as a site guide and remained a KudoZ leader for years!
I had the great pleasure of meeting Sheila and her husband in Porto, Portugal, in 2013, at the ProZ.com international conference. I was not surprised by her kind email message, although her news about retirement left me that sort of bittersweet taste of knowing that a friend is embarking on a great new journey, but that means you may not see them around so often. So, I decided to invite her to review together her stay at ProZ.com and share the lessons she has learned as a way of helping others for the last time(?).
The review and the lessons learned
How did you get into translation?
When a native English speaker moves abroad, retraining to teach English is an obvious career move. From being a freelance EFL trainer, it's a short step to becoming a freelance translator once you become fluent in the language. I did both jobs for a while before concentrating on French to English translation.


You created your account at ProZ.com in January, 2007. In July that same year, you invested in membership. How did you find the site and what made you decide to become a paying member after only six months on it?
That decision reflects my personality. Once I'd decided to take up translation, I wanted to be a 100% professional translator. Googling brought me to the various sites where translators could meet prospective clients. I soon heard about the many thousands of FR>EN translators earning peanuts because they had no way of differentiating themselves from thousands of others. I wanted to find better clients and be treated as a professional, not as a sweatshop worker. In my opinion, a professional must always invest in their tools, training and self-promotion. So I took a course in translation techniques, became a paying member of the biggest translation workplace (aka ProZ.com), and attended an in-person CAT tool course offered through the site.

You remained a paying member for more than fifteen years (and counting…). Has this investment paid off? If so, how? If not, why not?
In all honesty, I can say that the majority of translation jobs I've ever had have been connected in some way with my investment in ProZ.com. A small proportion of jobs have come from the public job board. There are a lot of rubbish jobs advertised there, but a few gems too. Far more jobs have come from private messages sent through my ProZ.com profile. For that, you really need a good number of KudoZ points and a well-constructed profile, so that you appear on the first page of filtered searches. Then, once I'd gained a name for myself on the site and attended some in-person conferences, I started getting referrals from other translators here who were overworked, had a regular client looking for something they couldn't provide, or were going on maternity leave or holiday. And happily, over the years, an increasingly large percentage of jobs have come from referrals from clients I originally found here. So I can say that the return on investment (ROI) has been consistently good right from the beginning.

What are you most proud of in your professional career?
There have been several texts that have been prestigious in one way or another, or that I think I handled particularly well, but I can't share the details of those. What I can share is my pride in having had so many loyal clients that have called on my services year after year, staying with me even after I've had to turn work down or put up my rates. I really value the personal and informal long-term relationships I've enjoyed with agencies and direct clients.
But what has given me the most pride is to have been voted the Most Helpful Contributor to this site, on three occasions. There can be no greater accolade than that of your peers, so I regard that as the high point of my career. I'm immensely proud that my peers thought my contributions to the site worthy of the honour.
What is your advice for those getting started in the industry and at ProZ.com? How can they get the most out of the site and succeed too?
They've entered a very difficult profession at a difficult time. There's no magic wand that can guarantee success. But I firmly believe in two common sayings: "You only get out what you put in" and "You make your own luck". Don't just sit back and wait for the work to come in! It isn't even enough to spend all your waking hours spamming agencies asking for work. Do whatever you can to differentiate yourself from all the other translators in your language pair. You need to concentrate on quality. If you can't convince potential clients of your quality, the only reason they'll hire you is because you're cheap. In translation, particularly in the common pairs, that puts you in a downward spiral. You earn so little per hour that you have to keep accepting work, however poorly paid it is, just to cover the bills. That leaves you with no time for training, reviewing your marketing materials, networking, or even applying for new jobs. Quality, for most translators, means being seen as a specialist -- an expert in a certain field rather than a Jack of all trades. If you can become the "go-to" translator in a niche area, you can demand higher rates and have more stable relationships with clients.
The above is as true within ProZ.com as it is in the wider world of translation. There may be tens of thousands of translators in your pair registered on the site, so how on earth will you end up with any jobs? The answer is specialisation and the quality of your profile. The majority of better jobs never get published on the public job board. More discerning clients will do a filtered search of the translators' database and then send messages to a shortlist of selected translators. So, how do you make sure you're on the list at all, and how do you get to the top of page one? Fortunately, there are a lot of resources on the site to help you do just that (the free "Meeting Clients" webinar, the Site Guidance Centre, etc). But it's going to take a lot of investment from you too, some of it in the form of money (paid membership, qualifications, professional tools...), but mostly in the form of time and effort.
---
Thank you, Sheila, for taking the time to address all these questions, for your time and effort in helping others in the industry, and for supporting the site with your membership investment all these years! I, and the rest of the site staff, hope to see you around from time to time. Enjoy!
Need help?
If, like Sheila, you want to make your own luck, ProZ.com staff is here to help you.