Any business or individual can outsource via ProZ.com using any of these two methods: job postings and the directory.
The directory allows outsourcers to search over 1 million linguists with over 20 search criteria, and contact them directly through their profiles. The directory represents the primary means that outsourcers use to find translators and interpreters at ProZ.com.
Job postings, on the other hand, allow outsourcers to share an offer and receive quotes from suitable language professionals.
How ProZ.com job postings work
This is how posting a job at ProZ.com works:
1. An outsourcer posts a translation or interpreting job. The job posting includes language pairs, project details, quoting deadline, etc. The job poster also has the option of imposing certain restrictions on the job such as native language, location, and more.

2. Interested language professionals express interest in the job. Those who are interested in the job and meet the job restrictions (if any,) may submit quotes to the poster.

3. Outsourcer chooses a service provider and contacts them directly. After some quotes have been received, the outsourcer may then choose one or more service providers for the job and contact them directly. ProZ.com does not charge any commission.
While job postings are not the main source of client-vendor contact, posting jobs at ProZ.com has its benefits for outsourcers:

Make a single post, include several language pairs and services, and gather dozens of quotes from language professionals in no time.



Save job posting templates to be used in future postings, or post similar jobs and save time.



Get your offer re-posted to Facebook, Twitter, and LinkedIn automatically (optional).



Use our online quoting system ("Submit quote via ProZ.com") and view and process all quotes in one single place. There are message templates available to accept or decline quotes quickly, but professionally.



Create a record of past job postings and use them as references in case of a dispute.
Here is an example of a ProZ.com online quote: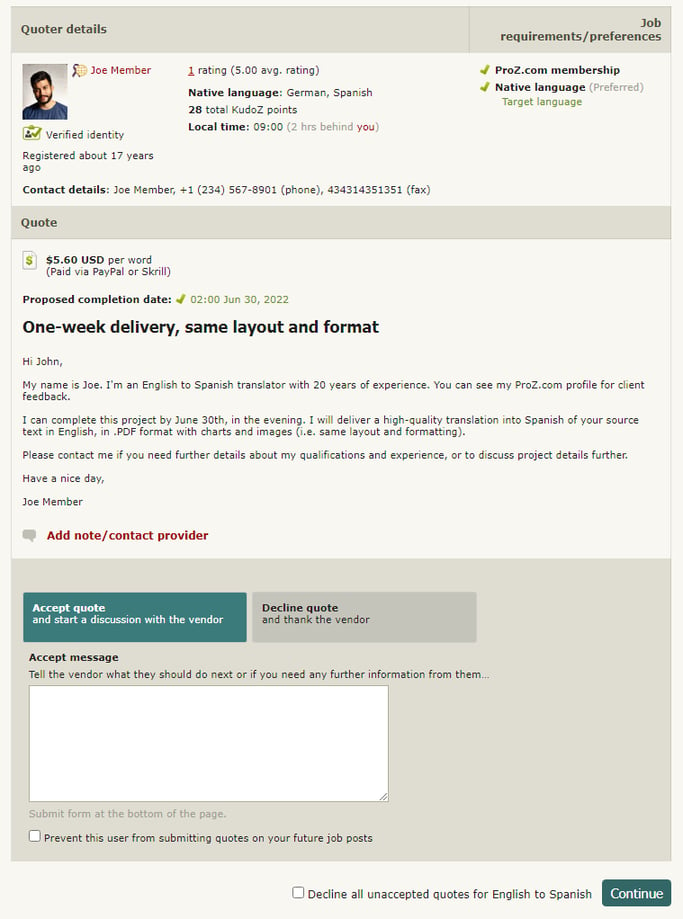 Give job postings a try and use the "Submit quote via ProZ.com" contact method when posting your offer to access the online quotes management service. Managing quotes online will help you to keep all the information in one place and save time.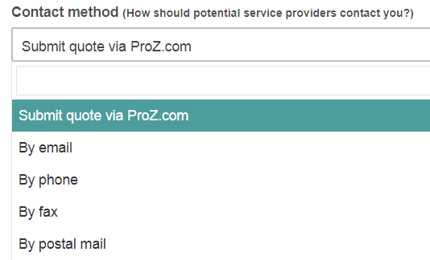 Keep all quotes for one job in a single place, but separated by language pair.



See quotes, but also important information about quoters: identity verification, years of experience, credentials, client feedback, native language, full contact information, resume, and access their ProZ.com profiles directly from quotes.



Review and process several quotes simultaneously.



Use template messages when processing quotes.



Contact quoters from each quote before making a decision, and ask for further information if needed.



Prevent specific users from submitting quotes on your future job posts.
And remember: taking a few minutes to accept or decline job quotes generates trust among language professionals and shows your commitment to industry professional practices. Job posters that regularly mark their quotes as accepted or declined display a higher number of quotes per job, i.e. if you take the time to let linguists know of your decision, they may feel better about taking the time to quote again on your future jobs.
Questions? Need help? The site staff is here to help you. Just let us know: business@proz.com