It is now possible to login to your ProZ.com accounts in the ProZ.com Mobile app using Google, Facebook or LinkedIn credentials.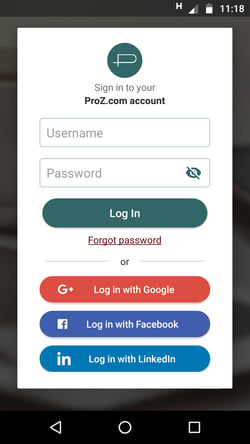 What are the advantages of social login?
Logging into your ProZ.com account with credentials already entered in other active platforms makes the process of accessing the app easier, and therefore faster.
Facebook and LinkedIn access enable quick social functionalities such as commenting or content sharing through the app.
A single login for two or more services translates into less login details to remember!
For more information about ProZ.com Mobile social login, click here.
Give this method a try and continue getting the most out of ProZ.com anytime, anywhere, and faster!

Do you want to know more about ProZ.com Mobile? Visit the ProZ.com Mobile page.