Crowdin, a cloud-based localization management solution that speeds up and automates localization, has integrated with the ProZ.com API and added three new apps to its store that can enhance the experience of its users. Managers and translators can benefit from these additions to search multiple glossaries, hire freelancers, and make payments.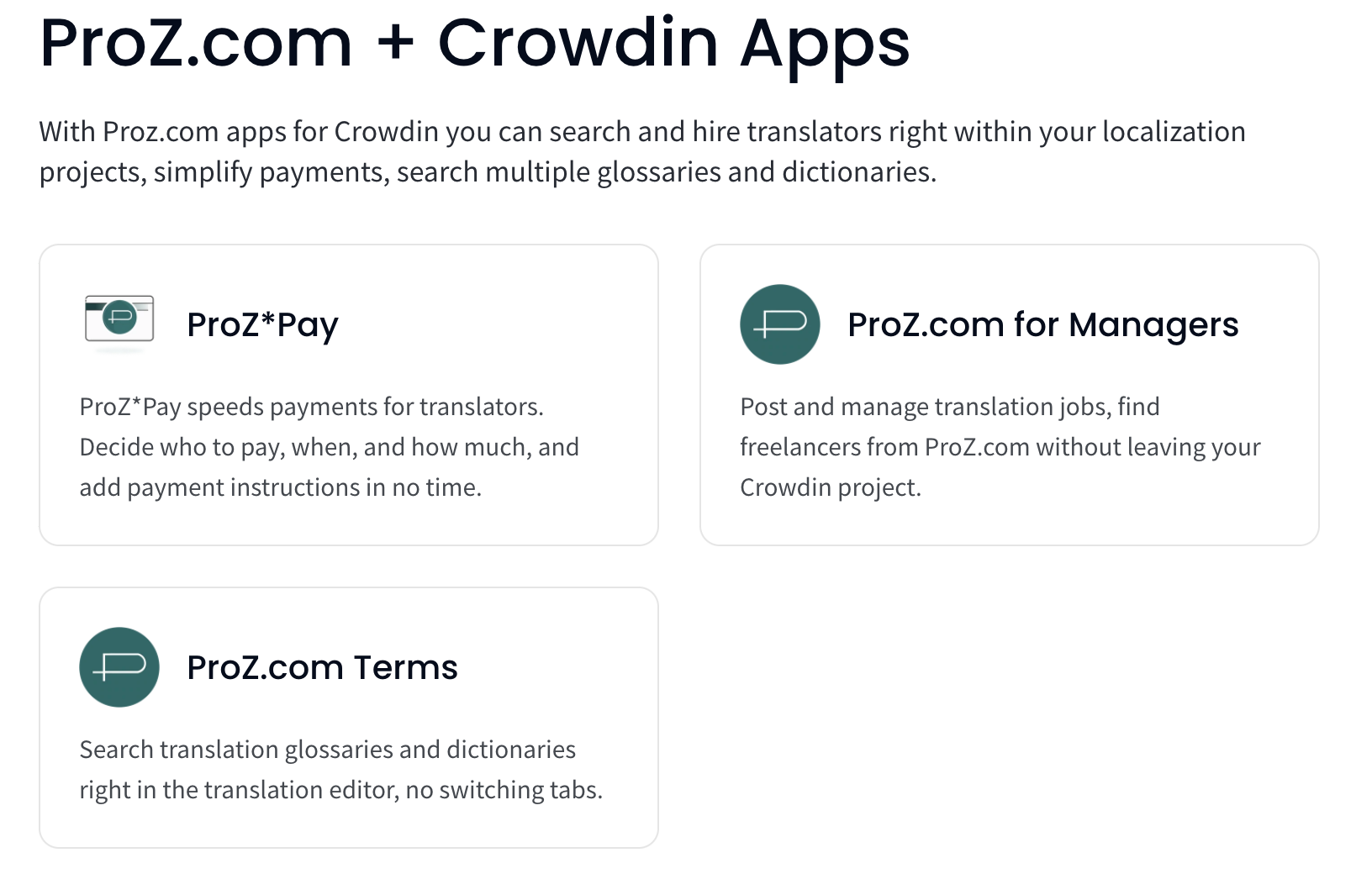 🧑‍💻 ProZ.com for Managers allows you to post translation jobs and hire freelancers from Proz.com without leaving your localization project.
🔍 ProZ.com Terms helps translators find terms right from the editor and work faster without switching tabs.
💳 ProZ*Pay will manage translator payouts for you.
Installation information appears along with the apps in the store. Freelance translators using Crowdin should also make sure Crowdin appears as a known Software/CAT tool in their ProZ.com profile.






Read on for further description of each application or click to the Crowdin Marketplace to begin working with these apps.

ProZ.com for Managers allows Crowdin users to find freelancers to translate projects and create jobs at ProZ.com.




The app allows you to search for ProZ.com registered freelancers, segmenting by those who have declared Crowdin knowledge from expertise included in their profile and people available today based on the availability calendar. Freelancer contact can happen without leaving Crowdin.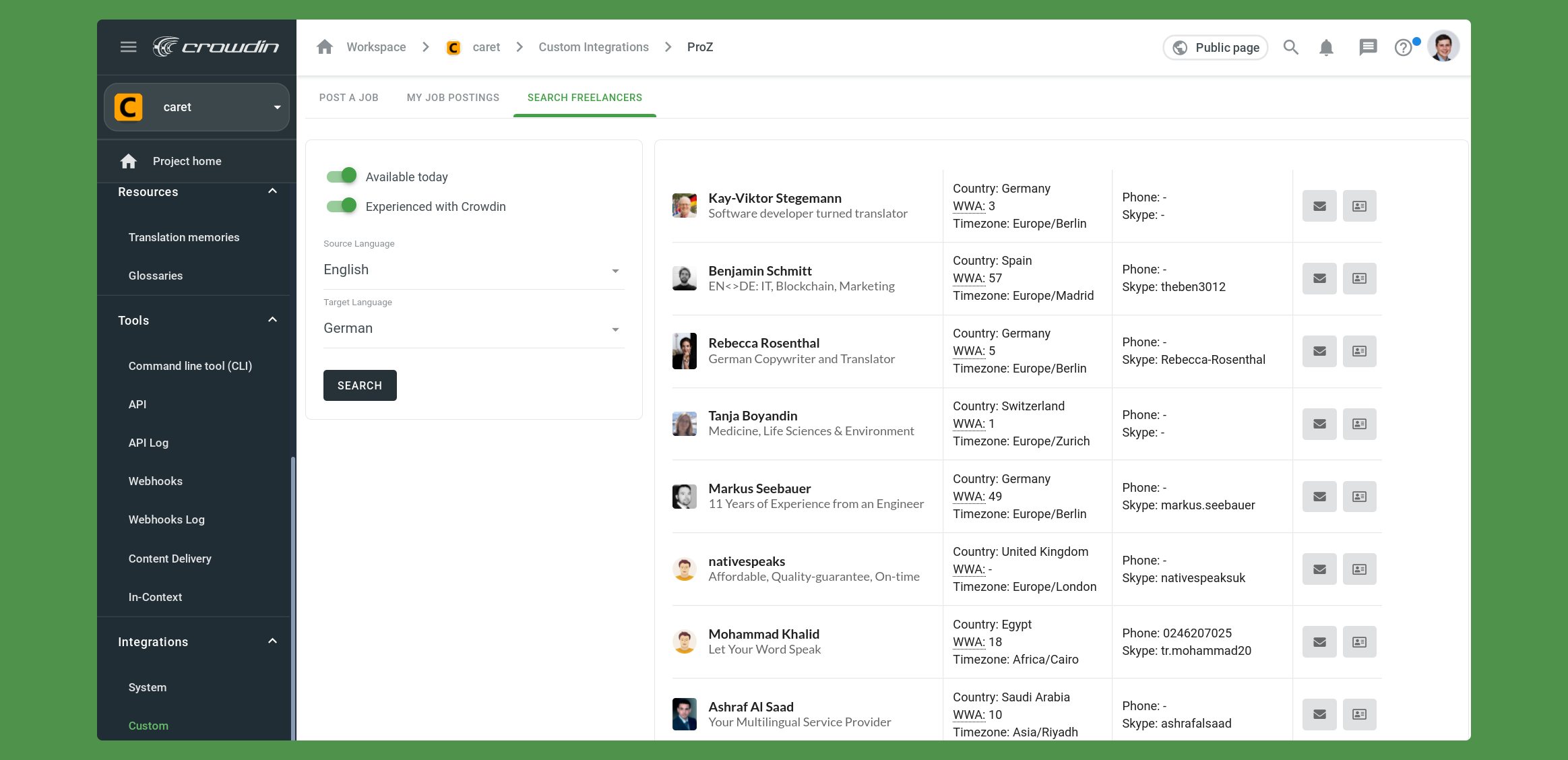 If you would rather post a job at ProZ.com, that is integrated as well. Templates are available for making this an easy process.

Install this ProZ.com for Managers application.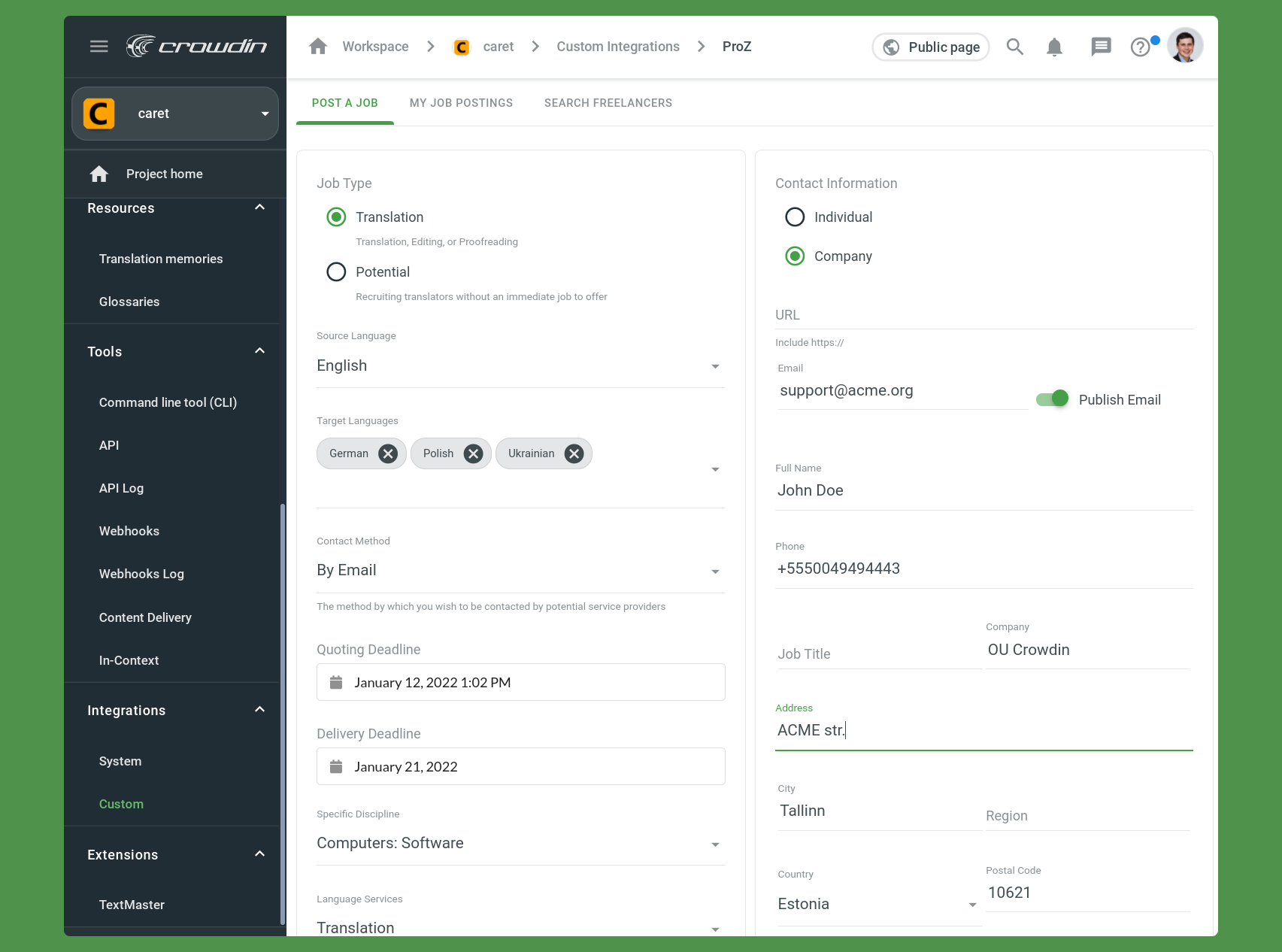 ProZ.com Terms allows Crowdin users access to search translation glossaries and dictionaries for terms in different languages and used in different fields. Use this app to find the best translation variants and understand the context better using ProZ.com term search and KudoZ.

Once installed, the app would be available right next to the translation field in the translation editor. So, translators can search terms when translating without switching tabs.

Install this ProZ.com Terms application.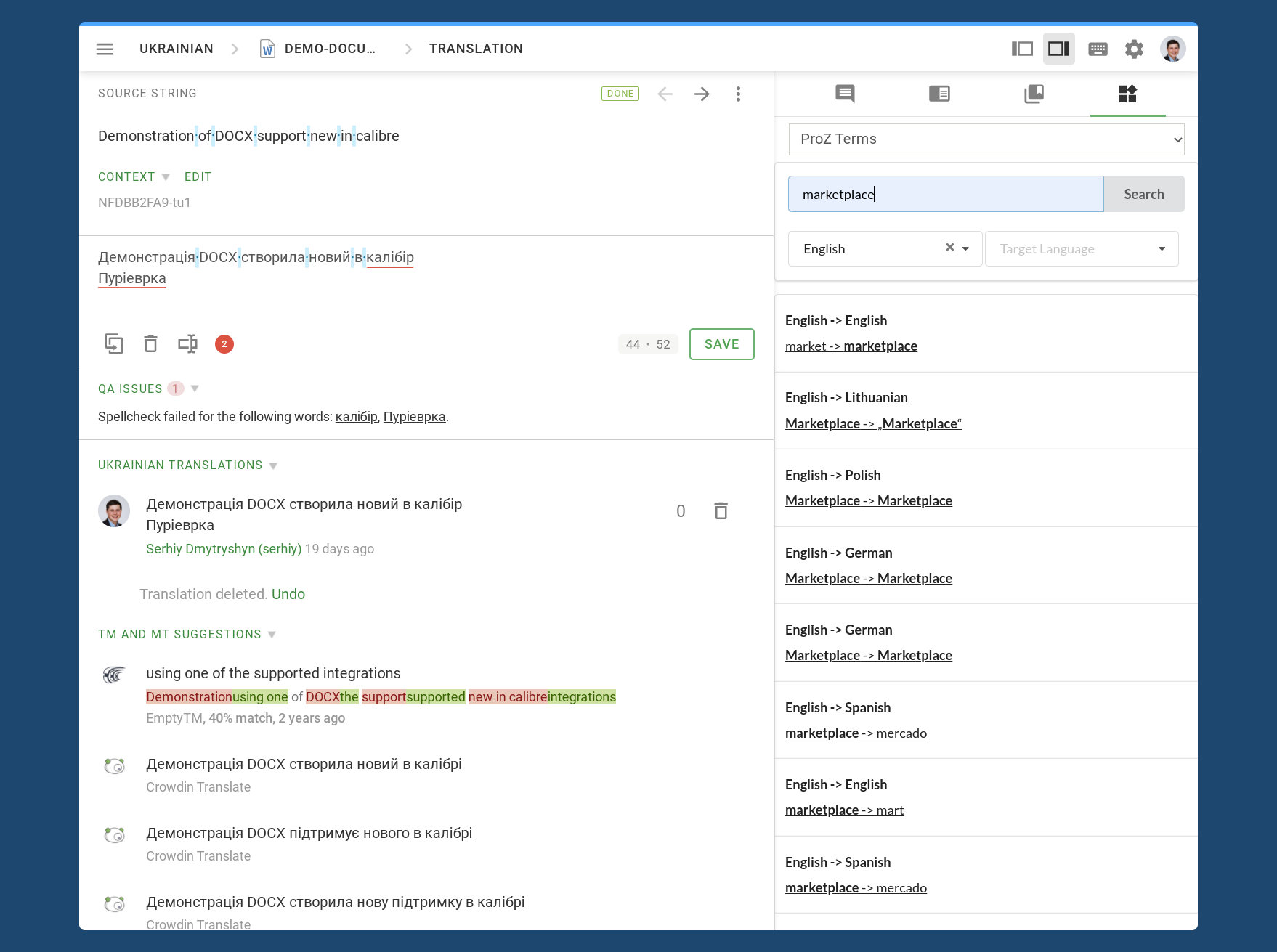 Need to make payments to translators from Crowdin? ProZ*Pay speeds payments for translators.

Decide who to pay, when, and how much, and add payment instructions in no time. Pay individuals or groups, with no minimum, with 10+ payout options for your payees to choose from.

Flexible options include bank transfers, PayPal, Skrill, Wise, RiaMoney, mobile money, cash pickup and more. Small convenience fees may apply (typically 2-5%).





Share a spreadsheet or just let the Proz.com team know who to pay. More on Crowdin and ProZ*Pay in the video below, the Crowdin marketplace at or right here at ProZ.com.




Are you a developer with a company in the language industry? Much like Crowdin, you can bring the power of the world's largest freelance translator network to your application through the ProZ.com API.

Whether you are developing a CAT tool, translation marketplace, or a language-related application - integrating ProZ.com's API will help you power and enhance it. ProZ.com's API can also help if you are translation agency looking to automate tasks you are currently doing manually on ProZ.com.