You already know how to assess a new client and decide if you're comfortable starting a professional relation with them. Unfortunately, clients new and old may sometimes get behind with payments for a number of reasons. From a change of personnel in the finance department, through an inefficient new management software, all the way to cashflow issues; there are a myriad factors that may cause a client who has long been reliable and trustworthy to leave your invoice unpaid.
Now let's say you've found yourself with an invoice due on March 2nd, and it's now two weeks later and the money for your Internet bill still hasn't arrived. It's natural to feel angry and anxious, particularly if you're just starting to freelance online. But panicking won't pay your invoice! Rather, there are a few ways to get your payment and, best case scenario, even keep an amiable relationship with your client and continue collaborating.
The first thing that you want to do is look for this person or company in the ProZ.com Blue Board to make a non-payment report. If the company does not have a record, you will need to create one, with as much information as possible: proz.com/blueboard/?sp_mode=add —once the record has been approved by ProZ.com staff, you'll then be able to make your entry.

The Blue Board is a database of company records containing all the feedback that translators on ProZ.com have left regarding their experiences as freelancers. All users can see the company names, post entries of their own, see the comments and access the company's average rating. Meanwhile, ProZ.com members also have access to the comments left by previous users, detailed ratings and company information, such as phone number and address.
Once you're at your client's Blue Board page, click the Make an entry button. In the following form, you can enter as much or as little information as you like. When you get to the end of the form and click on Submit entry for vetting, a blue sign will pop up with the following legend: You entered a low LWA for this outsourcer. If you have not received payment, report a non-payment for this outsourcer. By clicking on the red link, you'll access the non-payment form, where you can detail the owed amount, whether you've been able to get in touch with the client, etc.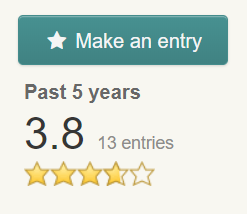 What does your non-payment report do? First of all, it notifies the outsourcer. Second, the outsourcer won't be able to leave feedback on your profile until this matter is settled, to protect you from professional backlash. And, third, it may lead to the company having their access to the site restricted, as per ProZ.com termination policy.
Frustration and fear are normal when your work goes unpaid, but it's important to keep your contact with the outsourcer professional. When you make a non-payment report on the Blue Board, keep in mind that the site rules don't allow for personal insults or generalizations. Rather, the really effective entries are those that mention the PO number, the name of the person that you were in contact with, and when you last emailed them; so that they can use that information to issue your payment as soon as possible. And don't worry, you can edit your entry once the matter has been settled.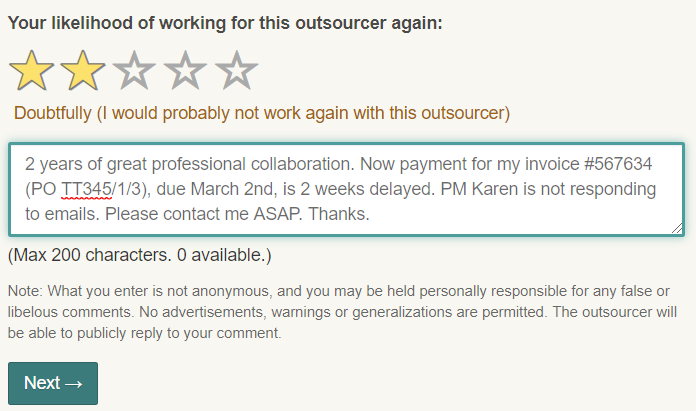 If the outsourcer claims that they've issued payment or that your report is not in line with site rules, ProZ.com staff will contact you to corroborate this. If necessary, ProZ.com staff will ask for evidence from both parts and evaluate the situation, to determine whether the non-payment report is in line with site-rules or not. You can get ahead of this process by submitting a support request with a link to the Blue Board, and the relevant correspondence: PO, invoice, and the emails between you and the client. This is also the evidence that you will have to show a debt collection agency or a lawyer, if email and a non-payment report are not enough to settle the issue.
After you've made your non-payment report, or immediately before, let the client know of it via email. Don't email just the person(s) that you have been in contact with all along, but rather include any contact email that you can find for the company. Ideally, you want to email within the same thread that you made all the negotiations in, or attach the correspondence to your new message.
What should your email include?
Your full name (and legal name if necessary) and ProZ.com profile if they contacted you through the site.

The name and email of the person(s) that you were in contact with.

The details for the PO and invoice, as well as the two files attached. Express your willingness to correct the invoice if there is any information missing.

Your full payment details, whether you accept other methods or not, and the details for the alternative payment methods, if any.

Details of which steps you have taken so far to claim your payment, and which steps you will take next. For example, explain:

I have already notified PM of the delayed payment, I have made a non-payment report on ProZ.com, and I am going to contact my lawyer if this issue hasn't been settled within ten business days.
When emailing a client that is delaying payment, you may feel tempted to escalate. You may have the urge to insult the client, threaten them with ruining their reputation, or even reach past the translation agency and directly to the end client. However, responding to unprofessional behavior with further unprofessional behavior is never the way to go. A project manager working for this company may quit tomorrow and go on to work with another agency, and be the one that rejects your application because they remember your emails cussing out their past colleagues. Or, once the payment has been issued, the outsourcer may decide to report you to your association or college for breaking the code of ethics by contacting the end client. On the other hand, if you keep your cool and stay polite but firm, you have more chances of getting your payment swiftly and may even earn yourself a five star feedback for your professionalism.
Last, but not least, give the client a phonecall. Just as with your emails, keep it professional and polite, explain that you are trying to get your payment, and let them know that you have just sent an email. For the honest but disorganized clients, this should solve most problems.
This post is Part 1 of a two-part guide on how to deal with non-payment issues.
Find Part 2 here.