A web widget is an independent application that can be embedded into a web-page, blog, or profile on a social media site and that will enable the display of information (your client feedback) or the call for an action ("Follow me").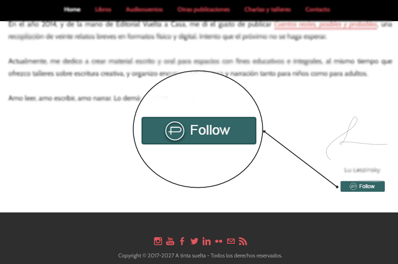 ProZ.com widgets are a great way of showing potential clients and colleagues anywhere what makes you special at ProZ.com and how to quickly connect with you.
When a client searches Google for a translator and arrives at your website, they may know nothing about ProZ.com, even if site services are working for you, behind the scenes, to help you connect with them. With widgets, these clients can quickly visit your ProZ.com profile and learn more about you, the role you play in the language community, your training and credentials, your level of expertise, all in one place.
In the same way, clients jumping off from your ProZ.com profile to your website can use widgets to "save" or "follow" you based on the content on your website, without needing to return to ProZ.com. In this way, the potential customer or colleagues connects with you thanks to a seamless experience that spans both ProZ.com and your own website.
Copy-and-paste the HTML code generated for the follow web widget and allow other site users to start following you from outside ProZ.com. When you follow other site users, you stay updated on what they are doing on ProZ.com and you can choose to filter their activity directly on the home-page (new version). When others follow you, they see what you are doing in your specialty, the entries you make in glossaries, the terminology issues you help to resolve, the feedback you receive from clients.
Enable this widget to allow other users to add you to their vendor management lists when visiting your website or blog. These lists help clients to manage the recruitment of linguists and other localization professionals and get in touch with them quickly individually or as part of a group.
Embed your What I'm Working On (WIWO) statuses on your website to promote the work you do. A client might just happen to be looking for a translator with your profile and be interested in the kind of work that you describe in these posts --WIWOs show that you actually work on such projects, and not that just say you do. Similarly, a fellow translator might be able to suggest a resource useful for the type of projects you usually work on, to exchange related experiences and opinions, etc.
Translator feedback is a ProZ.com feature that provides translators, interpreters and other service providers with a means of collecting and displaying in their profiles feedback from colleagues about their "willingness to work again" ("WWA") with them. Use the feedback card widget to display this feedback on your website and be better positioned to turn potential new clients into actual ones, to justify above-average rates, to mitigate the need for performing test translations, etc.
The ProZ.com "Certified PRO" seal is a mark of distinction used to identify screened professionals in the ProZ.com community. To earn the ProZ.com "Certified PRO" seal, a translator must possess the competences required of a professional translator as outlined in the EN 15038 standard for translation quality, have a proven track record as a reliable business partner and endorse the community's Professional Guidelines. Once a ProZ.com member is accepted into the Certified PRO program, they can generate their Certified PRO badge and embed it on their website, email signature, online resume or any online profile.
Are you an active member of the ProZ.com community? Do your posts show up in the site's activity feed regularly? Embed ProZ.com activity on your website and display industry activity in real time.
Are you a business member? Has your business collected good feedback from service providers and it has a good Blue Board rating? Embed your company's Blue Board record on your website and display your feedback rating.
---
ProZ.com marketing and networking widgets are available to Professional Plus subscribers and Business members. Not a member yet? Check other membership benefits →