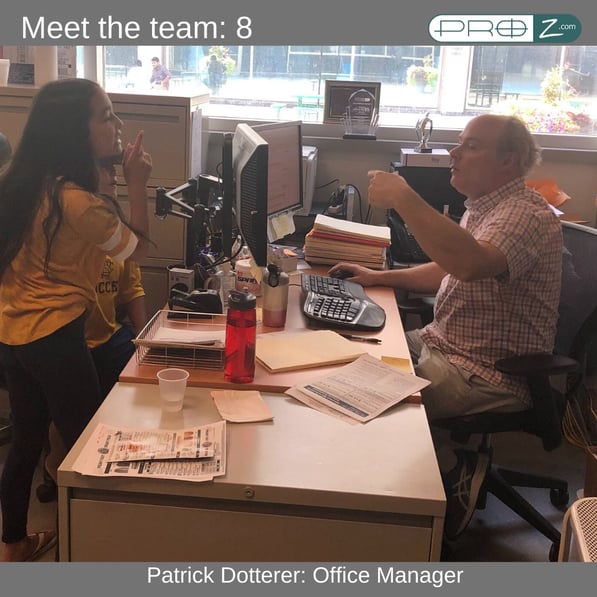 Over at the

Translators and Interpreters (ProZ.com) Facebook Group, there are plans for a series of weekly posts introducing you to the people behind
ProZ.com
. Some of them you may have come across, while others have remained in the shadows… until now! In the weeks and months ahead, we'll get to know all of them in turn. This is our eighth profile.
Keen-eyed observers will have recognized the surname, and in fact there are still more Dotterers to be discovered in ProZ,com, but we'll come to that another day. Many small businesses set out to create a family atmosphere. ProZ.com takes it literally.

Back in February 2005, Patrick had already worked as a history teacher for 5 years, then spent six months teaching English and learning Spanish in Argentina. It had been a toss-up between Mexico, Venezuela and Argentina, and fate(?) led to the latter (and later to a marriage, but that's another story). Which meant that when Pat decided to give up teaching, and ProZ.com was expanding into Argentina, he was the perfect candidate. He began alone, as a customer service rep in a small office in Buenos Aires, hiring his first co-worker, then a few more, until he'd built up a small team. His responsibilities expanded to project management and overseeing the operation. In fact, Henry considers Pat "the founder of Argentina". Well, you know what he means…

In fact, Pat learned all those new roles on the job, helped by a steadfast approach, an eye for detail, a solid network, and an ability to recruit the right people to help – some of whom still work at the company and have already featured in this series, such as Jared and Lu.

It was in 2008 that Cathy Dotterer (yes!) moved out of her bookkeeping role into a higher education job, paving the way for Pat's journey towards his present incarnation as Office Manager. This involved localizing the site, working on the Certified Pro Network with Maria Dotterer(!) and supporting developers, but also dealing with mail, hiring people, paying bills, office supplies and payroll.

Over time, he took on more responsibilities, meeting the accountant, doing the numbers, filing taxes, monitoring expenses. It was all new, and offered plenty of opportunities to acquire new skills. Pat is obviously undaunted by learning curves… Then his role expanded to "money and people", making sure that his co-workers are happy and have the resources they need, as well as overseeing family time and vacation, including some generous and innovative benefits. That's quite a workload. Just as well he now has an able assistant to work with.

When asked about his hobbies, Pat asserts "I don't have any", despite having dabbled in golf and fishing. But then he reveals a near-obsession with fantasy sports, meeting his friends and his Dad in restaurants to create entire online teams in various sports and "manage" them, keeping track of stats and trading players…

He also has an identical twin called Tony, and in a small town like Syracuse, that gives rise to almost Shakespearean misunderstandings. Like the time Tony recently got married, and Pat had a hard time explaining to people that it wasn't him, or when people call him "Tony" on the street and simply don't believe him when he denies it – until he fishes out his driving licence. "Proving your identity" almost qualifies as a hobby, right?