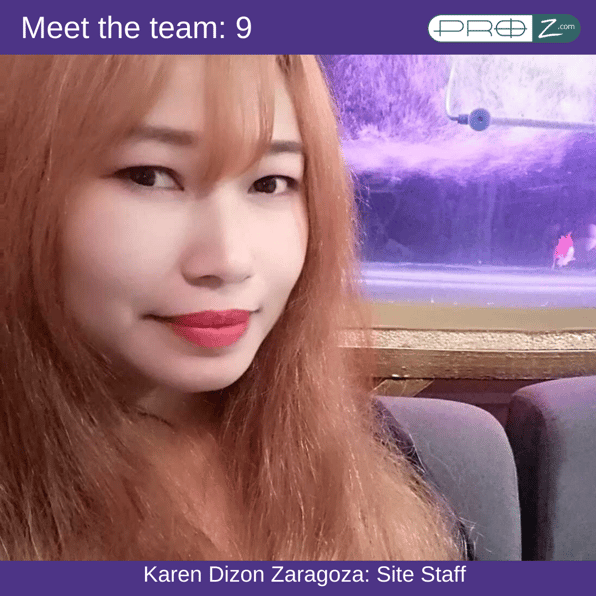 Over at the

Translators and Interpreters (ProZ.com) Facebook Group, there are plans for a series of weekly posts introducing you to the people behind
ProZ.com
. Some of them you may have come across, while others have remained in the shadows… until now! In the weeks and months ahead, we'll get to know all of them in turn. This is our ninth profile.


So far our journey to meet the team has taken us to the USA, Argentina and the Ukraine. Maybe you thought that was it? Well, you thought wrong, because we have another team member working out on her own in…the Philippines!
After studying Mandarin and Japanese, Karen Dizon Zaragoza, who is of course fluent in Tagalog and English, set up a profile on a freelance jobseeker platform back in 2010, with a view to applying for a customer service position. She soon received an email invitation from Jared Tabor at ProZ.com. Karen immediately picked up on the language connection – her first job had been at a Japanese translation agency in Manila – and so decided to apply right away. A raft of tests ensued, followed by an interview with Lu, and to Karen's delight and surprise, she was accepted.
It was her first time working from home – all her previous jobs had been office-based, and that in fact is one of the things she enjoys most about her current job. We all know the comforts of home-based work, but they're all the greater when you have six dogs and several fish to look after! Add to that the chance to avoid the chaotic traffic on the streets of Manila and the benefits are soon multiplied...
Karen also greatly appreciates the generosity of the company, especially in taking the initiative to help during the time of Hurricane Yolanda back in 2013, plus the joys of being an industry with global opportunities to network and promote communication across the business world.
Today, her role involves handling support tickets and a variety of issues around the Blue Board, membership, profiles, and site feature issues, which mostly revolves around reading and responding to emails, and solving issues.
Of course, given the timezone differences, there's only a brief window of opportunity to speak to people in Argentina or the USA (where early morning is mid-evening in the Philippines), but full use is made of that every day.
As you've seen in previous posts in the "Meet the Team" series, with some of our co-workers we've been hard-pressed to list their hobbies. The good news is that Karen has enough to go round the entire company. Not only does she love cooking; when she was younger, she won a scholarship to study oil painting, initially inspired by the anime work in the Japanese culture she had discovered. On top of that, Karen was once a champion ice skater who won a gold medal in the Philippines vs Malaysia games! Oh and did we mention she's also a muay-thai fighter?
Clearly a woman of many talents…