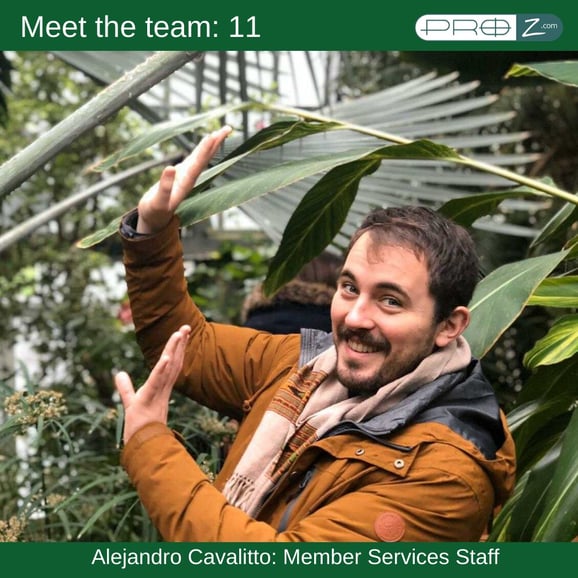 Over at the

Translators and Interpreters (ProZ.com) Facebook Group, there are plans for a series of weekly posts introducing you to the people behind
ProZ.com
. Some of them you may have come across, while others have remained in the shadows… until now! In the weeks and months ahead, we'll get to know all of them in turn. This is our 11th profile.


We've already glimpsed the
Dotterer family in this series
. It's now time to meet a young member of the Cavalitto dynasty. Alejandro Cavalitto was ten years old when his parents started participating in
KudoZ with ProZ.com
, way back in 2001, so he grew up hearing all about the organisation as it evolved over time. His Dad,
Enrique
, was a moderator and a hugely important figure in setting up and running the Argentina operation in La Plata over the years, until his retirement.
Alejandro's first job was in data entry, updating records on an hourly basis. He'd started studying English from a very young age, attending private classes outside of school, and now speaks like a native, so when the La Plata office was looking to enlarge the support team in 2008, Alejandro – who already knew
Henry
,
Patrick
and
Jared
– was a natural choice.
He started out on a part-time basis, covering the weekend shift with a couple of days during the week, and then moved into full-time work. For many of those years, he worked alongside his Dad, who stepped down in 2018. One of his major duties back then was overseeing the
moderator programme – with around 50-60 highly dedicated volunteers involved at the time, working behind the scenes with the community, across cultures and languages.
Alejandro is currently on leave, navigating the immigration process to the USA (no easy task at the moment), but until recently his main roles have involved overseeing vendor services and advertising, particularly working with
TGBs (Translator Group Buys)
– working out the deep discounts on CAT tools offered to the ProZ.com community, setting up the deals, the banners, the mailing lists and a variety of other back-end tasks.
For Alejandro the most enjoyable aspect is working with a talented team who are passionate about what they do, especially since the support staff doubled in size a year or so ago. And then there's being part of a truly global and highly diverse community, with a job that puts you in contact with people who need your help – and where you are in a position to do just that.
Beyond the workplace, Alejandro has an unusual passion, as a budding fountain pen collector. He loves writing by hand – in fact he can't even think unless he's writing notes by hand on paper, and already has an array of pens with different kinds of inks, taking an interest not only in the aesthetics but also the technology involved. He's particularly into Japanese pens, because of the fine nibs. Given that fountain pens are so often used in logos for translation companies, he reckons there must be more of you out there too. Time to step out of the shadows!