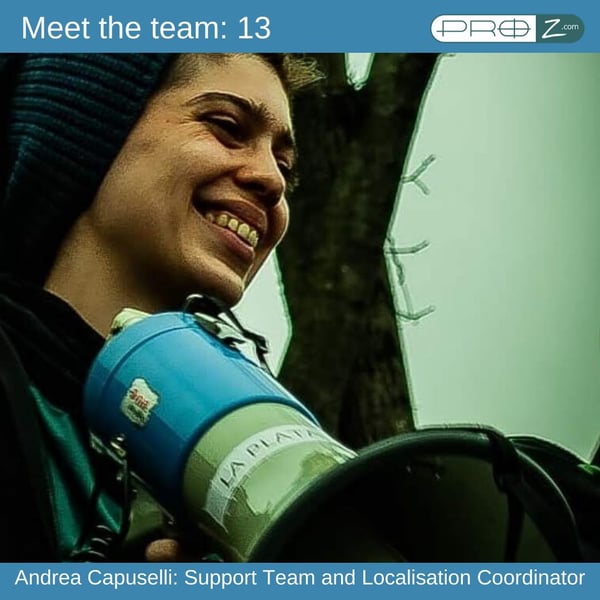 Over at the

Translators and Interpreters (ProZ.com) Facebook Group, there are plans for a series of weekly posts introducing you to the people behind
ProZ.com
. Some of them you may have come across, while others have remained in the shadows… until now! In the weeks and months ahead, we'll get to know all of them in turn. This is our 13th profile.


Like many of the dynamic La Plata team, Andrea traces it all back to a presentation by
Lu Leszinsky
at the local university on the profession and how to start freelancing. In fact, Andrea already had some translations under her belt – via family connections in the local cinema industry. She'd never joined a platform though, so she
created an account
– but then promptly forgot about it for the next two years.
Her first assignments as a translator were glamorous – film scripts and subtitles – but badly paid. But it was work, and wages elsewhere were low. To supplement that income, Andrea also worked in retail outlets – but such jobs were often paid below the minimum wage. What's more, layoffs without pay were routine. In December 2018, Andrea finally landed a decently paid job, but the precarious economic climate generated constant work anxiety, and so despite being employed, Andrea kept searching the local websites – until one day she spotted a ProZ job ad.
Although her experience had been selling printers and cellphones, and restaurant work, Andrea applied, told her friends to cross their fingers, and was hired. Perhaps that retail customer service element helped. It still does, as Andrea now enjoys regular contact with translators across the world – especially those who signed up for commission-based membership. Of course there's the occasional angry customer to deal with, but because the support system is highly personalised, at least no one thinks they are talking to a machine.
These days her work includes
support tickets
and coordinating translators for
active site localisation teams in around 25 languages
. Beyond those, there are another 60 languages, such as Irish, where the team is empty right now, plus those minority languages where only one person ever popped up to help. So populating these teams is a key goal, so that translators can interact with the site in their own languages, not necessarily through English. The rewards for the work include free advertising, plus months and or years of free membership, depending on volumes translated.
Then there's the ongoing effort to make the site more disability-friendly, involving the use of screen readers for visually impaired users. Meanwhile, compiling the feedback from commission-based members continues, as they come to the end of their year. Add to that daily checks of the news (around 90 blogs!) for industry updates, work on
glossary-building KudoZ
,
plus the occasional blog post
and that makes for a full day…
And the picture above? In 2018, the local shipyard was experiencing upheaval, with government underfunding, non-payment of workers and an attempt by management to asset-strip the business. The workers took over and occupied the place. Andrea was among the student protesters and was invited onto the stage to address the crowd – one of the most exhilarating moments of her life.
Fortunately, the shipyard is now in a much better place all round. No need for such protests at
ProZ.com
of course, but if a political activist is ever needed, we know where to turn…